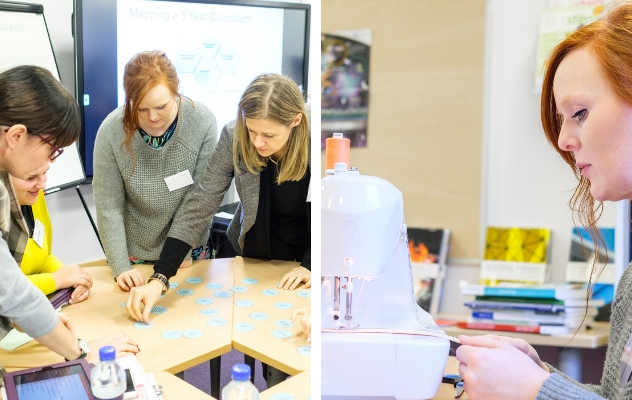 Never has a design and technology department been so diverse. One day you are teaching students how to design digitally for 3D printing, the next you might be solving a maths problem or explaining the science behind a technical textile. This can all feel like a bit of a whirlwind at the start of a new term, don't panic – we're here to help!
Whether you are new to teaching or an experienced hand, STEM Learning has training and support to help develop your design and technology and engineering curriculum.
What support is available?
Residential and local CPD
From online CPD to face-to-face training, our specialists are working hard to ensure that you have the courses and support needed to get you through those first long weeks of term.
If it's face-to-face training you are looking for, coming to CPD at the National STEM Learning Centre in York is a great way to gain new ideas, network with other subjects specialists and develop your subject knowledge in an inspirational surrounding.
We work with universities, employers and talented design and technology specialists to ensure that the content is current, relevant to help you navigate the ever-changing world of design and technology.
CPD is supported by ENTHUSE bursaries, enabling state-funded schools, academies and colleges to access training at a significantly reduced cost. The training is often held over two days, accommodation is provided and included in the cost of the course.
Take a look at some of the National STEM Learning Centre courses available this term:
CPD for 3D printing:
CPD for curriculum planning and development:
If you cannot attend one of our residential courses at the National STEM Learning Centre, take a look at our one-day regional courses, all supported by the ENTHUSE bursary.
Inclusive design thinking with Fixperts, a hands-on day of activities and project resources that will encourage your students to develop a more inclusive approach to designing, focusing on the needs of the user using practical design approaches. This CPD is running in five locations across England, find a venue near you.
Smart, modern and technical materials: inspired by space technology is a rare one-day event that will give you the opportunity to gather ideas, experiment with materials and gain ideas for how the core GCSE design and technology content for smart, modern and technical materials can be delivered using a space context.
The CPD is being hosted in Stevenage, at the Mars Yard test site in the Airbus Foundation Discovery Space. Spaces are limited, find out more by visiting the booking page.
Online CPD
If online support is more your thing, STEM Learning has a number of free online courses that are available to design and technology teachers (and other STEM departments).
STEM Ambassador support
In addition to training, there are also opportunities for you to bring volunteers from STEM industries into your classroom. The STEM Ambassador programme is free to access and will connect you with trained volunteers who can help inspire your students into further study and success in STEM.