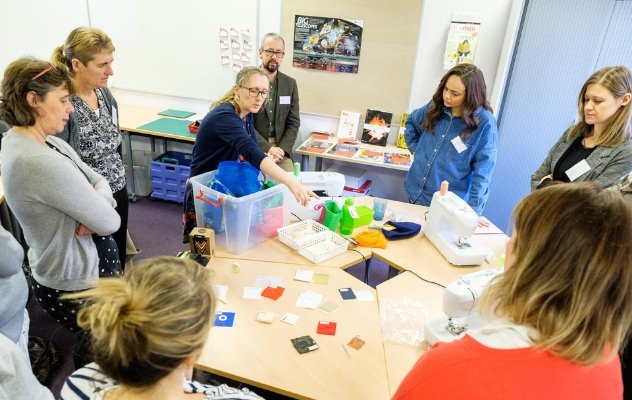 Did you know that products and materials that you can find on the high street were originally designed for use in space?
The technology behind cordless handheld vacuum cleaners was inspired from the battery operated drills used to extract samples from the moon's surface. If you've ever used an infrared ear thermometer, you have used technology transferred from the measure of temperature on distant stars and planets.
New products are being developed all the time, like the technology that is embedded into pyjamas to help warn of Sudden Infant Death Syndrome - based on products that test the vital signs of astronauts.
Many space-inspired materials are part of the design and technology curriculum, including shape memory alloys, Kevlar, titanium, Gore-tex, and graphene to name just a few. Working with design and technology specialists, ESERO-UK and the Airbus Foundation Discovery Space, STEM Learning has developed a new smart, modern and technical materials CPD that will provide teachers with ideas for teaching this core design and technology GCSE content, inspired through space!
As well as gaining resources, project ideas and hands-on experience with smart, modern and technical materials, this CPD will provide support and advice for teaching this content across all GCSE awarding bodies.
This exciting day will also include a talk from a STEM Ambassador working with some of the materials we will discuss during the day, an opportunity to see the Mars Yard, where Airbus scientists and engineers are testing out the next UK effort on Mars, the ExoMars Rover and the chance to explore some of the fun, interactive STEM displays at the Airbus Foundation Discovery Space, including robot arms, thermal imaging and satellite technology.
The event is supported by an ENTHUSE bursary for UK state-funded schools, academies and colleges.