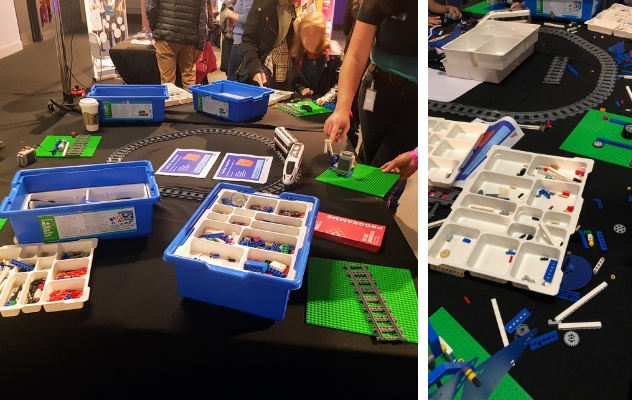 Silvia Re, a Senior Systems Engineer at Transport for London, has been a STEM Ambassador for the last two years. Silvia shares why she decided to become a STEM Ambassador and what this experience has given her so far.
I became a STEM Ambassador because my manager at the time mentioned he was doing it and I got intrigued by the idea. I immediately felt a natural connection to the mission of encouraging young people to pursue a career in STEM.
As a child, I played with LEGO all the time. Every time I was out and about I had to have some blocks in my pockets. Then I spent my teenage years with the absolute certainty that I wanted to become everything but an engineer. Now I can honestly say that that was because my role model of an engineer was my father and at 13 nobody wants to become like their father, right?
When the time came to start university, I realised I wanted to do something where I could apply science, even though the concept of what an engineer does was still quite fuzzy in my mind.
Why I became a STEM Ambassador
In hindsight, I became a STEM Ambassador for three main reasons. They all come from my family in some way, shape or form.
Firstly, my father taught me that no topic is too complex to be explained to a child and it's your responsibility as an expert to get rid of your jargon and make everyone understand.
Secondly, my parents also used to tell me:
"Do something difficult, if that is what you like. Don't be frightened by the fact that it is difficult. There is no reason why you can't do it just because it is difficult".
I think they meant the difficulty of the topics, but maybe they had something else in the back of their mind too… They knew by experience that the engineering world is still highly male-dominated, but they saw no reason why their daughter couldn't take the challenge of thriving in that world and trying to change that.
I was lucky enough to grow up in such a supportive environment and as a STEM Ambassador, I want to play my part in giving the next generation an even more supportive environment.
This is why sometimes I'm more passionate about talking to parents and teachers to make sure that they are encouraged and equipped to encourage students. I can only be with the children an hour or a day, they are with them all the time.
Finally, I wanted to share my experience of someone who has come to the idea of being an engineer quite at the last minute, someone that actually clearly stated for a period of her life that she didn't want to become one. I think that it is important to tell the younger generation, especially teenagers, that it is okay not to feel a vocation and also to show them what an engineer looks like. It would have been easier for me to decide if my only role models of engineers hadn't been my father and a couple of his same age male colleagues.
What this experience has given me so far
Talking to pupils, parents and teachers is challenging (different challenges for different ages), but it is also extremely energising. It forces me to take a step back and take the time of re-gain perspective around the importance of the job that I do.
I also feel extremely privileged to be able to see young girls be so motivated to try and experiment. I recently volunteered at the Science Museum Family Festival and School weeks and on both occasions, I saw girls far more motivated and skilled than some of the boys.
It's also a very good public speaking and negotiation exercise: you can lose their attention very quickly if you are not careful and they are extremely direct. You have to gain their trust in a short period of time and it's extremely good training, far more stretching than any training course.
Finally, they make me laugh and want to celebrate with them because their enthusiasm when they achieve is contagious.
If you are not a STEM Ambassador already, put it on your to-do list for 2019 (and the years to come). Do it for them and do it for yourself! It's fun, flexible and free. I don't think you can say all these three about the last training course you attended.
Find out more about STEM Ambassadors
We're incredibly proud of our volunteers
Our 30,000 STEM Ambassadors, representing more than 2,500 employers, play an essential role in inspiring and engaging the next generation of scientists, technicians, engineers, mathematicians and technologists. This December, we're shining the light on some of the many fantastic STEM Ambassadors around the UK. 
Read more from our STEM Ambassadors