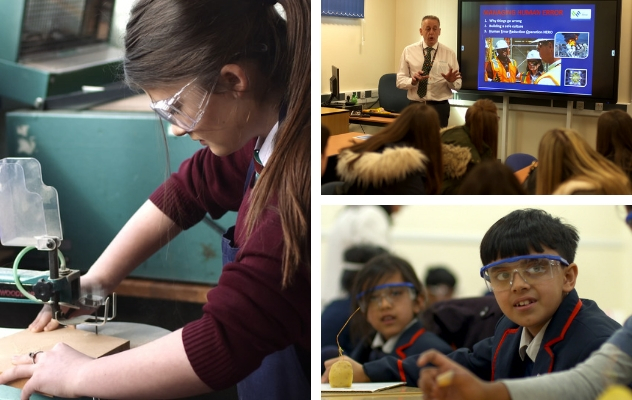 The UK is currently facing a huge STEM skills shortage. New findings from STEM Learning shows that 73% of businesses have found it more difficult to hire staff in the last 12 months.
The STEM Ambassadors programme is working to close the UK's skills gap by raising young people's skills, aspirations and knowledge of STEM careers. We are calling on schools, colleges, group leaders and businesses to work together and play an essential role in inspiring the next generation of STEM professionals.
Who are STEM Ambassadors?
STEM Ambassadors are volunteers from STEM backgrounds who offer their enthusiasm to inspire young people in STEM subjects and careers. There are over 30,000 volunteers across the UK, representing over 2,500 employers. 
Working with STEM Ambassadors gives young people the chance to gain an insight into the range of STEM careers opportunities available.
How you can get involved
Inspiration for teachers and group leaders
STEM Ambassadors get involved in a range of activities, including careers education and mentoring. Their support isn't just limited to the classroom - you can also invite a STEM Ambassador into your STEM Club or youth or community group.   
Take a look at our new videos to see all the benefits of working with STEM Ambassadors:
Inspiration for employers
Building the future talent pipeline is vital to the future of the UK's economy. By working with STEM Ambassadors, businesses can develop relationships with future employees, motivate their current employees and grow their profile in the wider community.
We work with more than 2,500 different employers including Atkins, BAE Systems, McLaren Technology Group and Rolls-Royce; why not join them?
Take a look at our new video to see all the benefits:
Become a STEM Ambassador
Volunteering as a STEM Ambassador offers you the opportunity to inspire young people whilst developing your own skills. By illustrating what a career in STEM looks like, you can change young people's perceptions and challenge them to solve the real problems STEM organisations face.
"It's really powerful for young people to see somebody in front of them, to see a pathway, whether that's to a career or to a particular lifestyle of choice that they can aspire to." Christina Watson, Head of Programmes, UK Youth
Get involved
Share our videos and join the conversation on social media using the hashtag #TalkAboutSTEM.
If you would like to get involved or ask any questions, email employer@stem.org.uk.
Other ways you can get involved:
AddToAny