Recreational problems in geometric dissections and how to solve them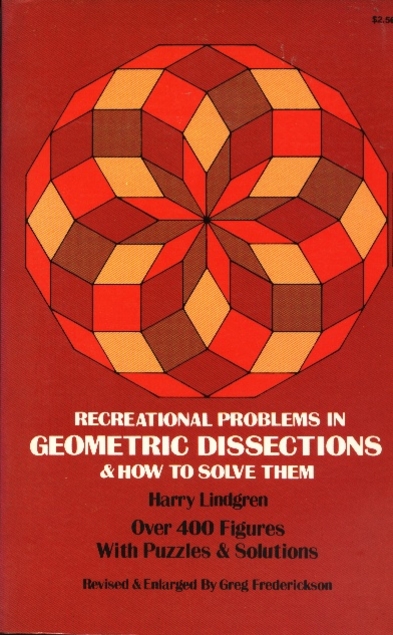 Geometric dissections are puzzles based on the art of cutting up one geometric figures into pieces which can be reassembled to form another figure.
The over 400 diagrams in this book represent the combined work of the author and others in such areas as polygons, stars, letters, curved figures, and solid figures. In presenting these dissections, the author carefully examiners the methods used in obtaining them, such as strips, tessellations, RTF's, and just plain ingenuity!
This book will appeal to the amateur problem solver who is looking for diverting mathematical puzzles to challenge their ingenuity.
This is a physical resource. Come and visit the National STEM Learning Centre library to see it.
| | |
| --- | --- |
| Subject(s) | Mathematics |
| Age | 11-14, 14-16, 16-19, FE/HE |
| Author | Harry Lindgren |
| Published | 1972 |
| Copies | 1 |
| Shelf ref. number | A 516.15 LIN |
| Rating | |
| Comments | 0 |
Published by
Actions
Share this resource