SMP 16-19: problem solving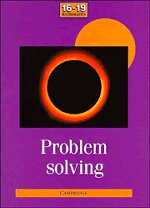 The aim of 16-19 Mathematics has been to produce a course which, while challenging, is accessible and enjoyable to all students. The course develops ability and confidence in mathematics and its applications, together with an appreciation of how mathematical ideas help in the understanding of the world and society in which we live.
This unit: aims to encourage an appreciation of mathematics as a problem solving tool; introduces the need for rigour in mathematical argument; develops ability in starting a mathematical enquiry.
This is a physical resource. Come and visit the National STEM Learning Centre library to see it.
| | |
| --- | --- |
| Subject(s) | Mathematics |
| Age | 16-19 |
| Author | Stan Dolan |
| Published | 1991 |
| Copies | 1 |
| Shelf ref. number | A 510.02 SCH |
| ISBN | 9780521388443 |
| Rating | |
| Comments | 0 |
Published by
Actions
Share this resource