Evolution and ethics: science and morals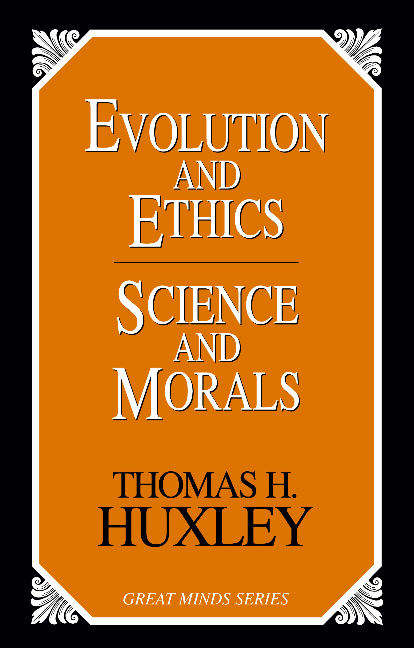 These two essays by the famous 19th-century champion of Darwin's theory of evolution tackle a subject that is still a major focus of ethical debates today: the relation of science as a whole, and specifically evolutionary ideas, to ethics and morality.
Written toward the end of Huxley's career when he was already famous as a persuasive lecturer and a fascinating expositor of new ideas, these essays demonstrate his rhetorical gifts and talent for explaining the importance of science to a lay audience. "Evolution and Ethics," his last major talk delivered at Oxford in 1893, was written in response to the then fashionable "Social Darwinism" popularized by philosopher Herbert Spencer.
Spencer and his followers had been labelling the poor, criminals, and other social undesirables as "unfit" and suggesting that society deal with them as harshly as nature deals with the physically unfit. Huxley found this approach both morally repugnant and a serious misapplication of Darwinian theory to the subject of ethics.
Society progresses, Huxley maintained, through individuals who prove themselves to be ethically the best, not physically the most fit. Ethics is designed to curb our antisocial animal instincts and therefore must be detached from natural competition.
In "Science and Morals," written some years earlier (1886), Huxley addresses three criticisms: namely, that he and his associates refuse to take seriously anything that (1) cannot be verified by the senses, that (2) is beyond the bounds of physical science, and that (3) cannot be subjected to laboratory experimentation and chemical analysis.
To all of these criticisms Huxley replies that he takes very seriously a host of mental phenomena that do not, strictly speaking, fall within these narrow physical limits: the universal law of causation, or the esthetic pleasure of the arts, or the truths of mathematics, for example.
He goes on to say that he repudiates the doctrine of Materialism as much as he does that of Spiritualism, and that he coined the term "Agnostic" to apply to his own particular philosophical viewpoint.
He concludes with comments on the existence of God and free will, suggesting that science does not necessarily rule out either postulate.
Students of ethics, the history of science, and the ongoing debates over evolution will welcome this new edition of two masterful essays by "Darwin's Bulldog."
Show health and safety information
Please be aware that resources have been published on the website in the form that they were originally supplied. This means that procedures reflect general practice and standards applicable at the time resources were produced and cannot be assumed to be acceptable today. Website users are fully responsible for ensuring that any activity, including practical work, which they carry out is in accordance with current regulations related to health and safety and that an appropriate risk assessment has been carried out.