Three little wolves and the big bad pig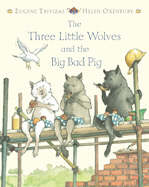 The classic fight between pigs and wolves as you've never seen it. The three little wolves erect first a solid brick house. The big bad pig comes along and when huffing and puffing fails to work, he uses a sledgehammer to bring the house down. Next they build a home of concrete: The pig demolishes it with his pneumatic drill.
The three little wolves choose an even stronger design next time round: They erect a house, made of steel, barbed wire, armor plates and video entry system, but the pig finds a way to demolish it too. It is only when the wolves construct a rather fragile house made of cherry blossoms, daffodils, pink roses, and marigolds that the pig has a change of hear.
Show health and safety information
Please be aware that resources have been published on the website in the form that they were originally supplied. This means that procedures reflect general practice and standards applicable at the time resources were produced and cannot be assumed to be acceptable today. Website users are fully responsible for ensuring that any activity, including practical work, which they carry out is in accordance with current regulations related to health and safety and that an appropriate risk assessment has been carried out.