Molecules at an exhibition: the science of everyday life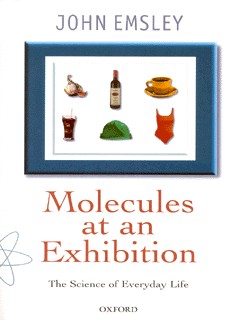 What is it in chocolate that makes us feel good when we eat it? What's the molecule that turns men on? What's the secret of Coca-Cola? In this fascinating book, John Emsley takes us on a guided tour through a rogue's gallery of molecules, some harmful some pleasant, showing how they affect our lives.
There are eight galleries in all, full of individual portraits on molecules that are to be found on a daily basis in the home, the environment, and in our bodies-from caffeine to teflon, nicotine to zinc. Find out how Mozart met his death, how Hitler could have saved the Third Reich from defeat, and many more interesting snippets in this highly entertaining, and often surprising book.
Show health and safety information
Please be aware that resources have been published on the website in the form that they were originally supplied. This means that procedures reflect general practice and standards applicable at the time resources were produced and cannot be assumed to be acceptable today. Website users are fully responsible for ensuring that any activity, including practical work, which they carry out is in accordance with current regulations related to health and safety and that an appropriate risk assessment has been carried out.