Coral: a pessimist in Paradise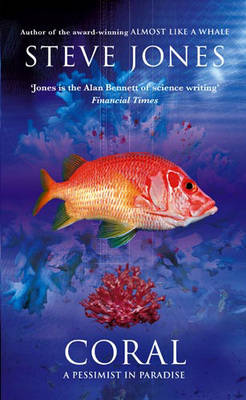 While writing this book, Steve Jones had beside him the coral brooch that his sea captain grandfather brought back across the Indian Ocean as a gift for his wife. This simple object is a starting point for a dazzling narrative that touches on a number of the most important issues facing us today.
Following in the footsteps of Darwin and Captain Cook, Jones reveals what coral has to tell us about the human genome project, cloning, and the possibility of a cure for cancer and genetic diseases; what insights it can offer us into the future of trade in oil and other forms of carbon; how it is linked to the fluctuations in weather patterns that have lead to destruction along the coasts of the Americas and the Far East.
Finally, Jones considers what coral - exploited and destroyed in many ways and under siege from climate change - tells us about the likely future of the planet and humankind: it is a warning that both may be close to the point of no return. 'Coral: a pessimist in paradise' is an inspired, eclectic book that links science with history, literature, politics and myth. It belongs to a vivid tradition of thinking and writing about humankind and its place in nature.
Show health and safety information
Please be aware that resources have been published on the website in the form that they were originally supplied. This means that procedures reflect general practice and standards applicable at the time resources were produced and cannot be assumed to be acceptable today. Website users are fully responsible for ensuring that any activity, including practical work, which they carry out is in accordance with current regulations related to health and safety and that an appropriate risk assessment has been carried out.