Collins dictionary of botany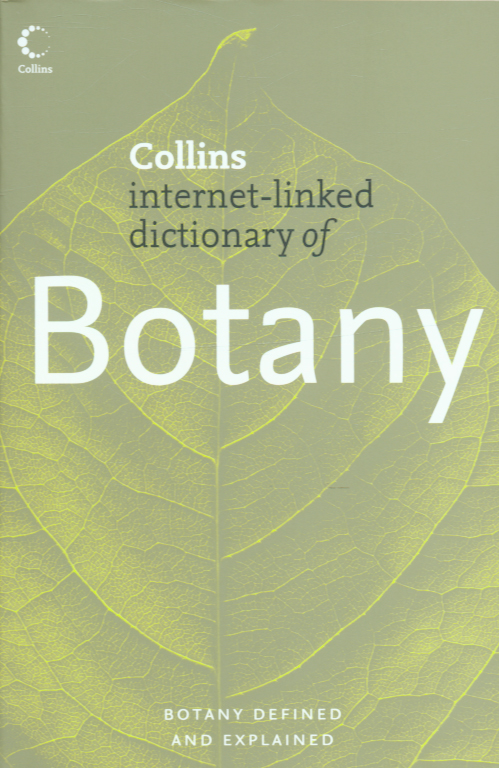 The language of botany from plant structure to genetic modification defined and explained for students of plant sciences and botanical enthusiasts The dictionary,with over 4,000 entries,covers the many subject areas that make up pure and applied botany.
The areas covered include physiology of plants, cell biology, biochemistry, plant pathology, plant anatomy, genetics, evolution and plant ecology as well as important applied topics, such as horticulture, plant breeding, investigative methods, conservation practice and microbiology.
To reflect their growing importance in today's world there is extended coverage of biotechnology and genetic engineering, which play such a central role in current developments in plant breeding.
The comprehensive coverage of this dictionary is designed to help undergraduates and advanced school students studying biology, botany or plant sciences. It will also be an invaluable resource to naturalists, geographers, horticulturalists and anyone interested in the study and conservation of plants.
Following the style of the Collins reference series,the dictionary contains short defining entries,longer explanatory entries and a selection of review entries on such key topics as chloroplasts, DNA and gene, plant groups such as Cyanobacteria or lichen, and investigative equipment, such as the electron microscope.
In addition the book contains diagrams and charts throughout the text to further the understanding of entries. It also includes a selection of recommended internet sites that will help and student of botany take the subject further.
The dictionary has been compiled by a team of scientists, and edited by Jill Bailey in consultation with Sir John Burnett, Chairman of the Trustees, National Biodiversity Network and Dr Andrew Lack, Senior Lecturer in Environmental Biology, Oxford Brookes University
Show health and safety information
Please be aware that resources have been published on the website in the form that they were originally supplied. This means that procedures reflect general practice and standards applicable at the time resources were produced and cannot be assumed to be acceptable today. Website users are fully responsible for ensuring that any activity, including practical work, which they carry out is in accordance with current regulations related to health and safety and that an appropriate risk assessment has been carried out.