Guide to weather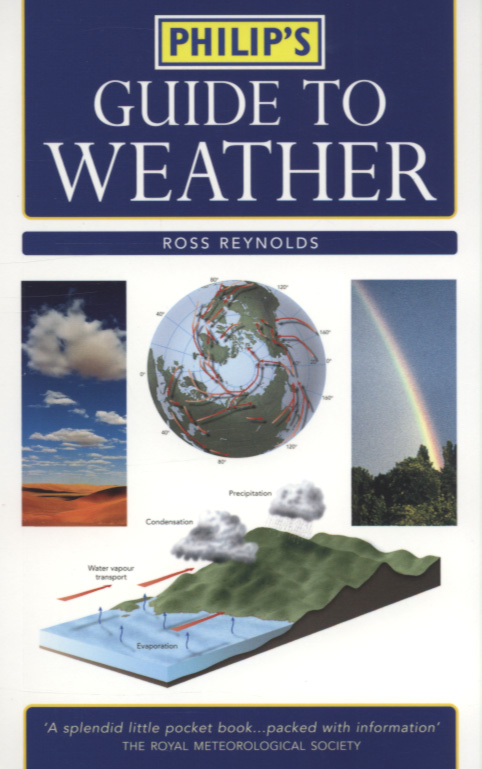 Philip's Guide to the Weather is a completely new edition of this well-established guide to observing, measuring and understanding the weather.It explains the subject at both global and local level, and deals with all aspects of weather from why phenomena occur and how forecasts are made to the techniques used to measure and map the weather. The book covers each topic comprehensively while remaining clear and comprehensible. Country-by-country climate guides and statistics are both fascinating and useful for travellers.
Handy tips on how to interpret weather signs are also included Philip's Guide to Weather also gives a detailed, factual and balanced account of the environmental issues currently in the headlines, such as global warming and the ozone layer, as well as the effects of El Nino and other phenomena on world weather patterns.Packed full of colour photographs and satellite images, the text is also illustrated with many specially commissioned artworks, as well as numerous Philip's maps, charts and graphs.The new edition contains updated and expanded text, a selection of new illustrations, and enhanced international coverage.
There is an increased focus on contemporary issues, such as climate forecasting and change.Philip's Guide to the Weather is aimed at all those who enjoy the outdoors, such as sailors, walkers, climbers and birdwatchers. It is also well-suited to secondary school students from 14 years upwards to undergraduate level - especially those who need to learn about the weather as one part of another course of study (such as agriculture). 
Show health and safety information
Please be aware that resources have been published on the website in the form that they were originally supplied. This means that procedures reflect general practice and standards applicable at the time resources were produced and cannot be assumed to be acceptable today. Website users are fully responsible for ensuring that any activity, including practical work, which they carry out is in accordance with current regulations related to health and safety and that an appropriate risk assessment has been carried out.