Ink sandwiches, electric worms and 37 other experiments for Saturday science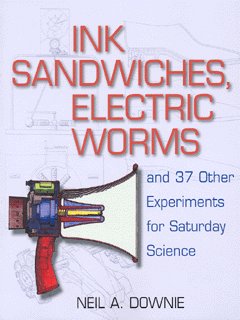 How do you make a clock out of an ice cube? Send messages using bubbles? Make money using a tube that waltzes? This collection of curious and offbeat science experiments provides the answers to these and 36 other questions.
Accomplished physicist and science writer Neil A. Downie covers a range of phenomena, from the rocking and rolling that drives a waltzing tube; to the fluid mechanics of a coffee-cup rev counter and biceps made from balloons; to the simple chemistry of red-hot batteries and wet solar cells. For each experiment, he provides historical anecdotes about the relevant phenomena, a list of equipment, detailed instructions, and a full explanation - requiring only high-school mathematics - of the science behind the procedure.
For those intrigued by any experiment, he includes follow-up suggestions, which describe ways to tinker with the initial "recipe".;This collection of lively experiments, with complete explanations and simple mathematics, will appeal to high-school science teachers, inveterate tinkerers, amateur scientists, or anyone looking for a project for the next science fair.
Show health and safety information
Please be aware that resources have been published on the website in the form that they were originally supplied. This means that procedures reflect general practice and standards applicable at the time resources were produced and cannot be assumed to be acceptable today. Website users are fully responsible for ensuring that any activity, including practical work, which they carry out is in accordance with current regulations related to health and safety and that an appropriate risk assessment has been carried out.