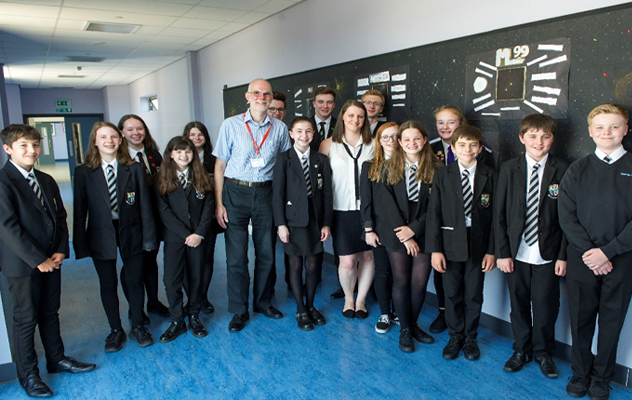 Denny High School has been running a STEM Club for the past four years. We chatted to Olivia and Sara, two of the senior STEM Ambassadors at the school, about their experiences of helping with the STEM Club and the impact this has had on themselves, their school and fellow students.
The club started life as a small group of five pupils who were interested in entering STEM-based competitions. The club was started as a way for Mrs Sharp to engage with more pupils and to help them explore the different skills that the sciences could offer them.
The club has now been running for four years and continues to give all pupils in our school the opportunity to engage with STEM careers and projects at national and international levels. It has been a lot of fun!
Our club is split into two sections: STEM Ambassadors and STEM Club. After completing an application and interview, we have been appointed as STEM Ambassadors. We have a lot of responsibility around the school and have built great relationships with our teachers and peers.
"My teacher convinced me to go to STEM with a couple of my friends and I loved it. There were loads of other girls there and I finally felt comfortable showing my passion for STEM subjects."
As STEM Ambassadors, we run the 'club' part of STEM Club and represent STEM across the school. We connect with our local primary schools to encourage the younger generation into STEM subjects and run school and community outreach projects.
One of our biggest projects we have been working on is run in conjunction with The Open University, where we are trying out their new online astrophysics module and learning how to command the COAST Telescope in Tenerife. The STEM Club members will have the chance to visit the telescope in May this year.
We recently had the opportunity to participate in pupil voice panels for government policy, where we spoke about our understanding of the Gender Pay Divide. It was great to learn that our thoughts and opinions will be used to help inform and shape government policies in the future.
"STEM has allowed me to explore new avenues of leadership by communicating with my peers and examining new ideas."
We have been working on our SQA Leadership Award, which meant that we got to organise a community event to help raise funds for our Tenerife trip and for the Club. It was an amazing night and we made nearly £700 running a stargazing event with Professor Cayless from The Stirling Astrological Society and a STEM Christmas fayre with activities and games.
Working with our fellow STEM Ambassadors to run such big events has really helped boost our confidence and communication skills. We have had to learn to be organised and flexible to help us handle any problems that arise.
The STEM Club runs on a Thursday lunchtime and consists of a variety of activities and hands-on challenges. We like to offer 'fun for all' sessions so that anyone can come along and compete for a prize.
Our members bring friends and the sessions are open to the whole school. We spend our time working on competition entries like the BAFTA Video Games Design Challenge and Shell's Bright Ideas Challenge. We brainstorm future events, plan trips or fundraising opportunities, listen to guest speakers and get involved with local projects.
The social element is particularly rewarding with staff and pupils spending time together and engaging outside the classroom.
Achieving runner up at the STEM Inspiration Awards was a real milestone for us and it was a great privilege to attend the award ceremony in London.
We had the opportunity to meet and speak with the attendees and they have inspired us to continue working hard and to encourage next year's STEM Ambassadors to start thinking about their applications.
"Through the monthly 'STEM for all' sessions the STEM club has successfully addressed the gender imbalance in STEM uptake and we now have a STEM Ambassadors team where the girls outnumber the boys"
Our school is very supportive of our STEM work and allows us to place club displays or notice boards in each of the STEM areas around the school. We often have STEM takeover days for whole year groups where everyone has the chance to take part in STEM activities and where we can encourage them to join the STEM Club. The most important thing for us is collaboration and making sure that all club members have a voice when deciding on new projects.
We are lucky to have Mrs Sharp, who will always find a way to get us what we need and ensure we all enjoy the sessions. She helps us to make informed decisions and keeps track of all the deadlines for the projects we choose at the start of the year. She also makes sure our work meets the criteria for success, which helps us stay on track and create the best entries for the competitions that we choose.
"As a teacher, the biggest impact I see the STEM club having is on pupil confidence and eagerness to learn. The young people engaged in STEM Club activities are passionate, articulate, enthusiastic, curious and creative."        
We love being STEM Ambassadors and running our STEM Club. It has really helped to make our last year at school extra special, and allowed us to use our experiences to guide other pupils who could go on an make a difference to the world.