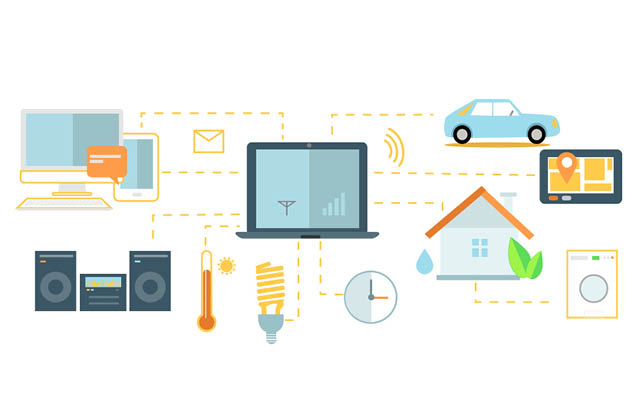 Internet of things, IoT, smart homes and cities, machine-to-machine communications… whatever you call it, it's big and growing fast.
It is estimated that by 2020, more than 30 billion devices will connect to the internet, integrating with the physical world and sharing data.
If you have a smart TV or thermostat, use a fitness monitor, touch your phone to travel by tube or drive on smart motorways, the IoT is already part of your life. This futuristic vision has become a lot more commonplace and affordable since Bill Gates, Microsoft founder and multi-billionaire, built his high-tech home in 1997. Touch screens in every room and location-aware devices no longer seem so fanciful.
Clearly this is an increasingly important topic for your students. Career opportunities in this booming business are plentiful, and a deficit of skilled workers means potential earnings are high. One international consultancy estimated the impact of IoT on the global economy will grow to $6.2 trillion by 2025, as next year's Year 4 students emerge into the job market.
How does the IoT link to STEM teaching and learning?
In science, sensors are used to collect and log data. Students draw conclusions and link measured data to observed effects on plants, animals and a host of other systems.
Computing includes study of how the internet works including the protocols that help us transmit data accurately and securely. Students of computing also consider data processing and presentation; automation of process through algorithms and programming; and the many types of devices that have bloomed since the first desktop computers.
In design and technology, products are designed and tested that have embedded programmable devices at their core, with inputs and outputs that serve a purpose and solve problems.
And without the statistical skills learned in mathematics, such as averaging and sampling and employing mathematical relationships, the IoT is simply a mass of data that tells us little.
How to get started with the IoT in your classroom
Raspberry Pi is a great IoT device, capable of connecting to lots of sensors and the latest version, Raspberry Pi 3 even has built-in Wi-Fi and Bluetooth connectivity. It can run from batteries, making it easy to leave the device in out in the environment you want to sense. It's been sent to the edges of space, has monitored wildlife and floods, automatically cared for plants and lots more. You'll find some great ideas here, and you can even use Scratch.
Arduino is another cheap and relatively simple alternative, as used in the ESA CanSat competition.
The BBC micro:bit is even simpler, and has got the IoT boffins working hard to exploit its sensor connections and Bluetooth Smart Low Energy networking capabilities. Find out more from BBC micro:bit partner Kitronik and join our teacher group to be the first to know as this evolves.
And check out our physical resource collection at the National STEM Learning Centre in York for more ideas, such as SamLabs plug-and-play IoT kits.
The Internet of Things is here to stay. Don't let your fridge know more than you…