The UK CanSat Competition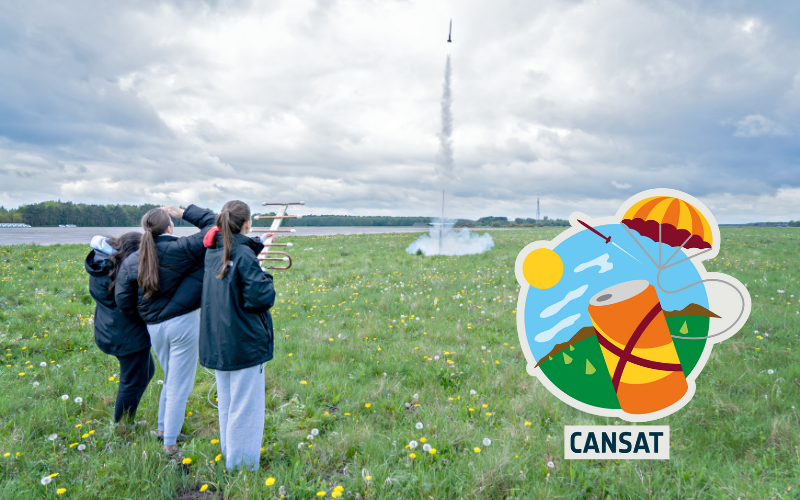 What is the UK CanSat Competition?
The CanSat competition provides students with the opportunity to have practical experience working on a small-scale space project. They are tasked with designing and building their own simulation of a real satellite, integrated within the volume and shape of a soft drink can. The challenge for students is to fit all the major subsystems found in a satellite, such as power, sensors and a communication system, into this minimal volume. After building their CanSat teams will be invited to launch events across the UK to launch their CanSats on small rockets, with their CanSats returning to Earth using a parachute designed by the students.
Teams are set a primary mission of measuring air pressure and air temperature during the CanSats decent, with data being transmitted to the students' ground station. They are also tasked with design a secondary mission of their choosing. It can be based on other satellite missions, a perceived need for scientific data for a specific project, a technology demonstration for a student-designed component, or any other mission that would fit the CanSat's capabilities. 
The competition runs from October - April each year.
Registrations for the 2022-23 competition are now open!

The challenge
The main challenges for students competing in the CanSat competition are:
• Assigning team roles and project managing their competition entries, including finances and outreach
• Fitting all the major subsystems found in a satellite, including power, sensors and communications, into the volume and shape of a soft drink can
• Designing a parachute to ensure the can survives landing after a launch
• Designing and carrying out scientific experiments and transmitting in-flight data from the CanSat to an Earth based computer
• Writing detailed, scientific reports on their progress throughout the competition
 
What are the benefits of taking part?
The CanSat competition offers a unique opportunity for students to have their first practical experience of a real space project. They are responsible for all aspects: selecting the mission objectives, designing the CanSat, integrating the components, testing, preparing for launch and then analysing the data. 
CanSat is a European Space Agency competition. ESERO-UK organise and run the UK CanSat competition. The winning UK team will be invited to compete in the European finals.
Who can apply?
The competition is open to teams from any school or college in the UK. Team members must be over the age of 14 at the time of the competition and at least 50% of the students included in a team must be nationals of an ESA Member State or Associate State (a full list of Member States & Associate States can be found here). Each team should comprise of between 4-6 students, assisted by a teacher or tutor. Multiple teams can be registered from the same school/college. 
What support will you get?
Each team's teacher will be provided with a basic CanSat kit if required and an introduction course from ESERO-UK. There are also a number of free online resources that can be used to support teams entering the competition. 
Teams can request a STEM Ambassador, who can support the design and build process. 
When applying, please read our guidelines carefully.  The deadline for expressions of interest for the 2022-23 competition is 01 October 2022.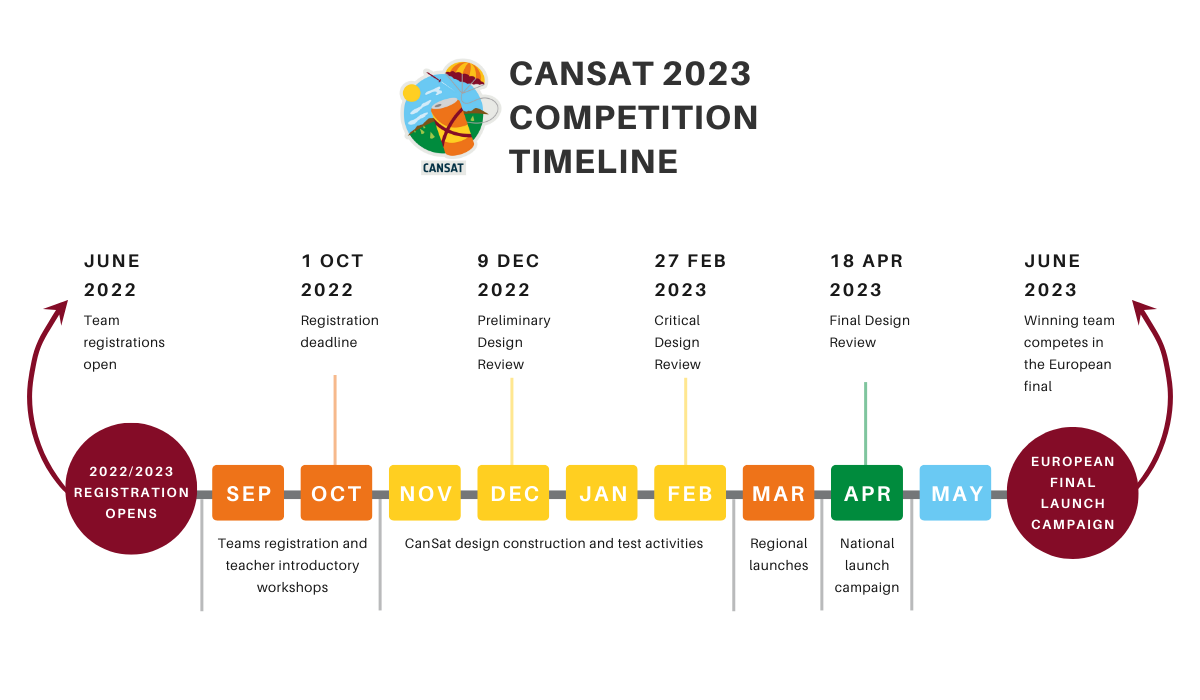 CanSat UK competition winners 2021-2022
The UK CanSat Competition Finals were held across three days at the National STEM Learning Centre in York, and at Elvington Airfield. 120 teams signed up to take part in the competition this year, and eight of those made it to the final after six months of hard work and dedication designing, building and coding their own space project.
Winners: St Johns School, Leatherhead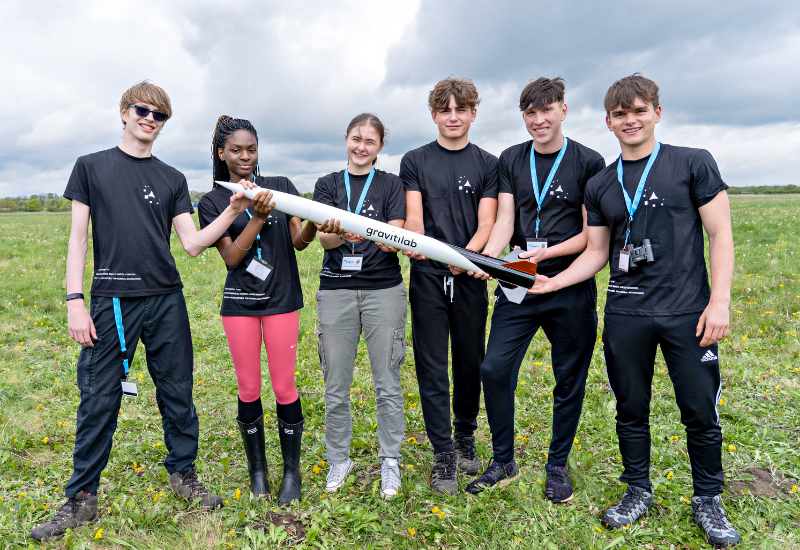 Team Eagles designed their CanSat to determine the suitability of Exoplanets for supporting human life and to calculate human survival using a range of sensors. As well as air pressure and temperature they measured Oxygen, CO2, humidity, UV light and Carbon Monoxide. Their CanSat then looked at the data collected, scored the risks and decided if the Exoplanet was suitable for further research.
Second Place: WMG Academy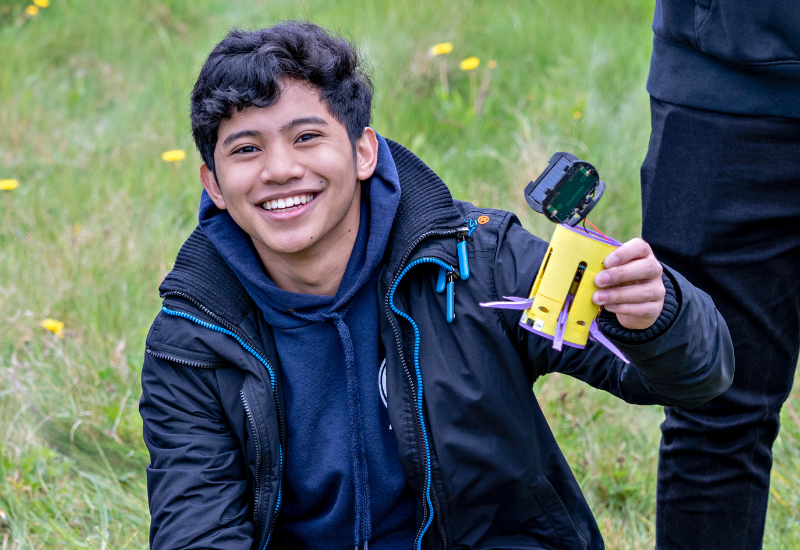 Team Boreas wanted to use their CanSat to better understand the state of permafrost in the Arctic Circle, and the release of greenhouse gases that it holds as the permafrost melts. Their CanSat could measure CO2, Methane, ground temperature, the nature of the terrain it landed on, the physical location of the CanSat and the levels of light being shone on the ground and being absorbed. Their CanSat had retractable landing legs that could move the CanSat upright if it landed on its side, and solar panels on a rotating platform that moved to the direction of most sunlight.
Third Place: St Johns School, Marlborough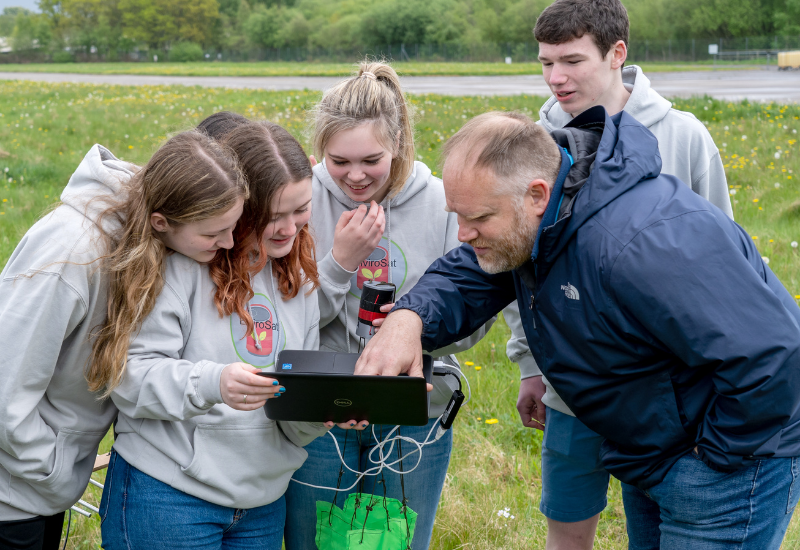 Team EnviroSat designed their CanSat to use an infrared thermal imaging camera and a particle matter sensor to prove the geographical theory of the "Urban Heat Island" effect, which is when carbon dioxide concentration in the air goes up, temperature also goes up, and vice versa. Using a particulate matter sensor they took readings of CO2 levels, along with other gases in the atmosphere, as their CanSat made its descent. They then compared readings to the infrared thermal images taken by the CanSat to try and find a correlation to support their theory. 
Download a free UK spaceflight poster
Help spread the word that, very soon,  payloads will be launching to space from UK spaceports! We worked with CanSat competition funders LaunchUK to create this poster, which publicises the UK's planned spaceflight programme. 

CanSat UK is organised by ESERO-UK as part of STEM Learning, and funded by the UK Space Agency's Spaceflight Programme LaunchUK and ESA.