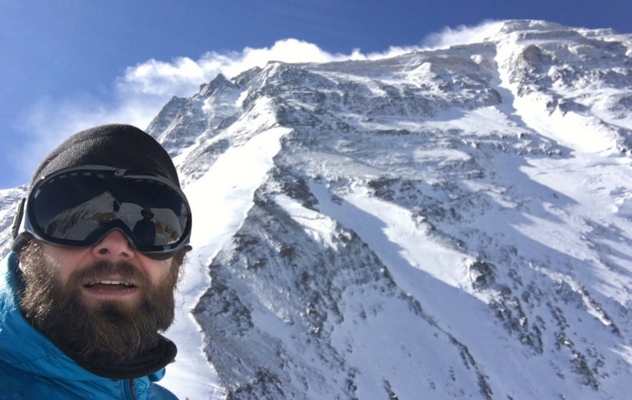 Having the opportunity to engage with and positively influence young people's life choices as a STEM Ambassador is one of the most satisfying things I've ever done – shaping young minds is a privilege and has become a real passion.
I enjoy drawing on my own life experiences as a Chartered Accountant, aid worker, mountaineer and polar enthusiast to inspire children to broaden their own horizons and follow their own dreams.
This time last year, I spent two months attempting to climb Mount Everest, the highest mountain on earth, to raise funds for Macmillan Cancer Support.
I climbed strongly to 7,000m but turned back at 7,900m due to dangerously low energy levels - I didn't want to climb into the Death Zone above 8,000m without being certain I could get myself safely home. As I climbed more than 7km above the earth's surface, I struggled to eat or sleep or to replenish my energy reserves. Slower team members began to overtake me and I had to double my oxygen flow rate just to make camp at 7,900m, at which point I made the difficult decision to descend. Despite turning back, I raised over £7,000 for Macmillan Cancer Support.
After a major storm at camp that afternoon - which necessitated an emergency descent - one of my teammates was badly injured after running out of oxygen at 7,500m. He was eventually rescued and helped down to basecamp by Sherpas, where I coordinated his medical treatment and his safe evacuation to a hospital in Kathmandu, since the leader had stayed up at 7,000m.
Six months ago, I was selected as a Polar Ambassador to provide support to three primary schools to improve progression in STEM subjects for 7-11 year old pupils.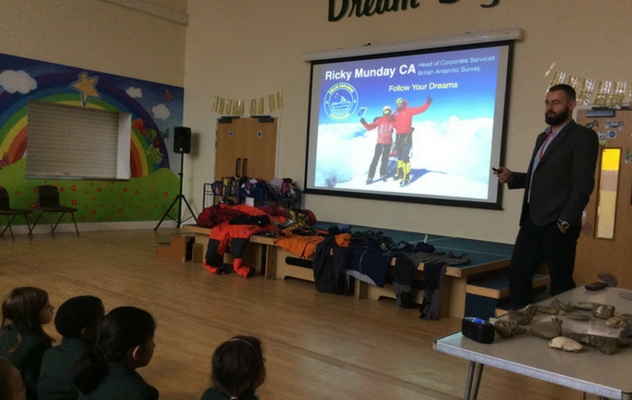 This unique combination of experience from the forefront of polar research and operations and from the higher reaches of the 'third pole' in the Himalaya has allowed me to engage pupils really effectively.
When I visit a school, I bring along a selection of polar and high altitude mountaineering clothing and equipment for pupils to wear. The pupils love it! After a recent assembly talk to 300 primary pupils, almost every single pupil stopped to ask a question as they filed out of the hall class by class.
"Thank you so much for an awe-inspiring assembly; it was fantastic to actually see pupils' jaw-dropping expressions! The questions continued long into the day as they processed the amazing experiences that you shared with them."
Over the last few months, I've given nine assembly talks about Antarctic research and my experiences on Everest. As a Polar Ambassador, I've taken this engagement to a much deeper level - I've helped schools design and deliver action plans to inspire their pupils and teachers alike, and to help ensure a more effective STEM transition from primary to secondary, and helped pupils appreciate the diversity of STEM career paths open to them.
I'm now heading back to Everest on 7 April 2018 to spend nine weeks attempting to finish what I started last year – with the ultimate goal of climbing to the top of the world. I'm keen to use this expedition as an opportunity to engage with as many pupils as possible to inspire them to push their own boundaries.
This year, I'll be taking additional oxygen and hiring a personal Sherpa, who'll move with me above 7,600m all the way to the summit. I'm climbing with a very small team - a British leader, two Sherpas and two other climbers. We'll be able to move nimbly to take advantage of small weather windows. All of these factors will maximise my chance of reaching the summit.
I'll carry a smartphone and I'll have access to 3G Wi-Fi at basecamp. Above basecamp, I'll carry a satellite Wi-Fi hotspot, which will allow me to hold Skype calls from above basecamp to 7,600m, and to access email, share photos and social media updates. On summit day, I'll use my satphone to post an audiocast directly online.
For school pupils, opportunities like this can change lives. I hope that as many schools as possible will take advantage of this opportunity to talk directly to a Polar Ambassador on the world's highest mountain and help inspire the next David Attenborough or Ernest Shackleton.
Find out more
Documents to download