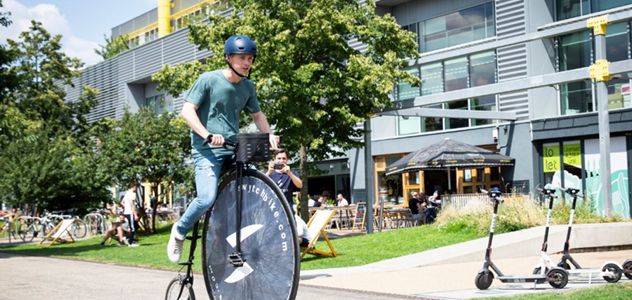 | Playing our part in reducing carbon emissions

STEM Learning has partnered with OVO Energy to launch the ultimate innovation challenge for 11 to 16 year olds.
 
OVO Energy is a progressive energy company striving to deliver more clean energy for everyone. As part of their mission, OVO Energy is shining a light on cycling as an alternative and energy-efficient way to travel and is proudly sponsoring this year's Women's Tour and the Tour of Britain.

We have partnered with them to create the OVO Energy Innovator competition and to challenge teams of students to come up with creative solutions that tackle the core barriers to cycling. The competition is designed to drive awareness of the rising CO2 levels that contribute to global warming, to inspire young people to put their STEM skills to good use and to encourage more people to take up cycling.

The Government's Cycling and Walking Investment Strategy (CWIS) targets include doubling levels of cycling in England by 2025. According to research by Cycling UK, a person switching from driving to cycling on an average daily commute (four miles each way) would save half a tonne of carbon dioxide per year. That's enough CO2 to provide heating for an average household in the UK throughout the winter months!

So our aim is to get more people on their bikes. OVO Energy is combining their love of green with their sponsorship of the Women's Tour and Tour of Britain and working with us to do everything they can to change the way people travel in order to reduce the world's carbon footprint.

They also love tech and are always looking for new ways to create solutions which will have a positive impact on our planet.

With 40% of UK employers reporting difficulties recruiting staff with vital stem skills we want to inspire young people to engage with this challenge, come up with great innovative ideas and hopefully discover that they have the potential to go into the STEM-based industries in the future.