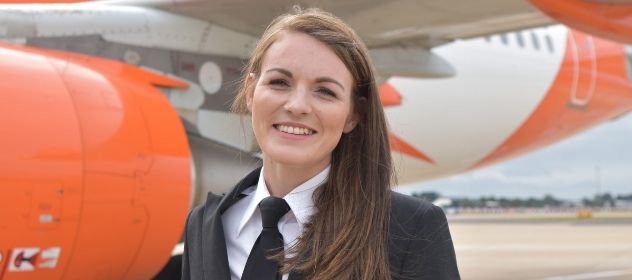 At the 2018 STEM Inspiration Awards Kate McWilliams won the award for Outstanding New STEM Ambassador.
Kate is an airline pilot flying Airbus A320 aircraft for EasyJet. She became a STEM Ambassador in January 2017 and has undertaken numerous activities to support learning in STEM subjects and careers. A year on from winning her award, we catch up with Kate to see how this achievement has impacted her STEM Ambassador role.
Only 5% of airline pilots worldwide are women. Research suggests that this is due to a lack of female pilot role models, so the time I spend speaking to students is really valuable. Last year, I delivered around one STEM event per week during the school term and this certainly hasn't slowed down since the awards. I regularly go into schools as well as Brownies and Air Cadet groups. I've also been lucky enough to team up with the Royal Aeronautical Society to speak at some of their "Cool Aeronautics" events and have been appointed as the Ambassador for Goodwood Aeroclub. On top of all of that I've also become a Training Captain to train new pilots entering into the airline industry. It's been quite a busy year!
The number of STEM events I've delivered this year has increased again on previous years and so has my enthusiasm for them. It's a real pleasure to speak to young people about a subject that I am so passionate about – aviation. 
A wider insight
I am an airline pilot, but there are many roles within the aviation industry which rely on STEM subjects – air traffic controllers and engineers to name a few.  Students of all ages are interested to learn first hand about an industry that they are otherwise unlikely to have an insight on. Introducing them to the breadth of roles in the industry is a real privilege.
Overall, it's been a whirlwind of a year but my opinion on our roles as STEM Ambassadors remains unchanged – it is so rewarding to see the students inspired and to consider a career that they may not have previously thought possible. If I visit a school of hundreds of pupils and I am able to encourage and inspire even one of them to aim high and achieve their dreams, then I've made a difference.
You can make a difference too, if you work in STEM, why not become a STEM Ambassador? If you are a teacher, why not reach out to more STEM Ambassadors to visit your school? Or if you see a STEM Ambassador doing some excellent work then why not nominate them for the 2019 STEM Inspiration Awards to reward their hard work?
Could you be a STEM Inspiration Award winner?
Applications for the 2019 STEM Inspiration Awards are currently open and will close on 10 September 2019.