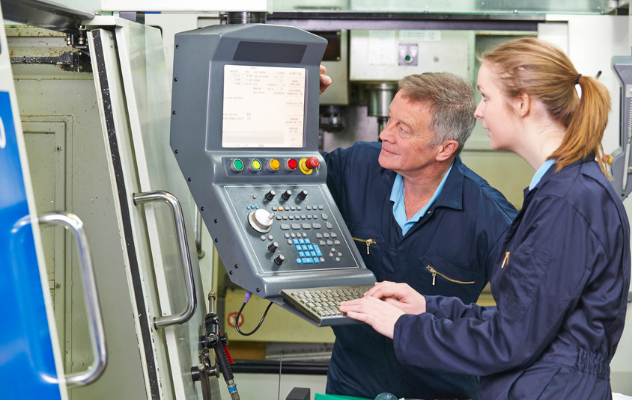 This National Careers Week we hear about how useful it is for teachers, careers leaders and employers alike to work together and share their experiences and knowledge.
Our STEM Insight programme bridges the gap between what happens in the classroom and the world beyond, to equip teachers, technicians and support staff with real-life knowledge and experience that bring career options to life in the classroom. We place a teacher or careers leader in a 'behind the scenes' placement with a local employer or university, giving them a first-hand insight into the careers and study routes available to their students. We asked a teacher, an employer and a careers adviser why they chose to take part in STEM Insight, and more importantly, the difference it has made.
 
Teacher
Sarah Longshaw, Head of Science and SLP Lead, Eaton Bank Academy
In August, I spent a week at biotechnology company, Thermo Fisher Scientific. 
I was placed with the Chromatography and Mass Spectrometry team where I learned about the production, quality control, research and development of biotechnical products. I also experienced how chromatography is used in a variety of different contexts, from pharmaceutical production to environmental monitoring, as well as the importance of histology in diagnosing cancer.
Everyone in the company gave their time to explain their roles, the science that underpins what they do and how it is applied in an industrial setting. This gave me a real understanding of the varying routes into the chemical industry, how science is used in the real world and the careers that biomedical science can lead to, as well as the confidence to share this experience with my students.
At the end of the week, I left Thermo Fisher with more ideas to enhance my teaching. I can embed more real-world examples into my lessons, giving context to my students and making what we study in the classroom more meaningful. For example, when teaching chromatography, the lab technique of separating a mixture of liquids, based on solubility, I can explain that its application is capable of detecting a grain of sand in a swimming pool, because it is sensitive enough to detect one molecule in a trillion.
This knowledge gives a greater significance not only to the lesson, but the entire subject. I hope that by sharing what I learned on my STEM Insight placement, I will impart a passion and enthusiasm for chemistry that will see more students pursue a career in this subject.
Employer
EDF Energy
At EDF Energy, in Hartlepool power station, we hosted our first STEM Insight placement in June 2017. Since then, we have welcomed five local teachers for a week-long placement at the station.
As a company, we identified the opportunity to offer teachers a truly unique experience by hosting them in our workplace. This has numerous benefits for both the teacher participants and our wider organisation.
From our perspective, STEM Insight placements benefit the company's educational links with local schools. We have numerous employment opportunities for young people and are always looking for ways to encourage new talent from the community to join us. Upon hosting teachers in our workplace, they subsequently become our advocates, informing their students about the possibilities of what a career within our industry could hold.
From the perspective of those teachers who come to complete a placement with EDF Energy, the feedback from one of our first placement participants, a head of department in engineering, summed it up perfectly.
"The week was incredible. I still cannot believe the amount of time given to us by all of the people on site. We had the undivided attention of apprentices, undergraduates, trainers and engineers. We even sat in EDF Energy meetings with engineers from onsite. I will be using this experience as I plan my level 3 engineering course, and I hope to bring them to EDF Energy for real industrial experience."
Careers advisor
Marie Jobson, Head of Guidance, Churchill Community College
As a school we took part in the North East Gatsby Good Career Guidance pilot. I remember looking at Benchmark six (Meaningful Experiences of Work) and feeling blind panic. We had no work experience provision for pre-16 and we ran a post-16 offer which was in need of a revamp. I took part in the STEM Insight programme to meet this requirement.
From the moment I walked into the Port of Tyne, I knew that in order for young people to understand a workplace and what it can offer, there had to be an element of immersion and a chance to really engage with its staff from all levels.
My time in manufacturing plants, a small and medium enterprise (SME), and a larger engineering firm in the Port of Tyne, helped inform and inspire the World of Work Week we currently operate. We now run a programme in Year 10 and Year 12 where preparatory workshops are conducted at school, before students engage with employers in small groups on structured visit and shadowing programmes. Students then feed back to key stakeholders formally at the end of the week regarding their learning about the world of work, the organisation specifically and responding to a task set by the employer.
The STEM Insight experience certainly gave me the insight I needed to shape how students and employers maximise time and value from experience of work away from a traditional model. We are now building on my experience to support teaching staff to address Gatsby Career Benchmark four (Careers through the Curriculum) to help teachers engage and understand the world of work and then bring the curriculum to life by teaching through the lens of careers.