Schools show flair and imagination connecting the unconnected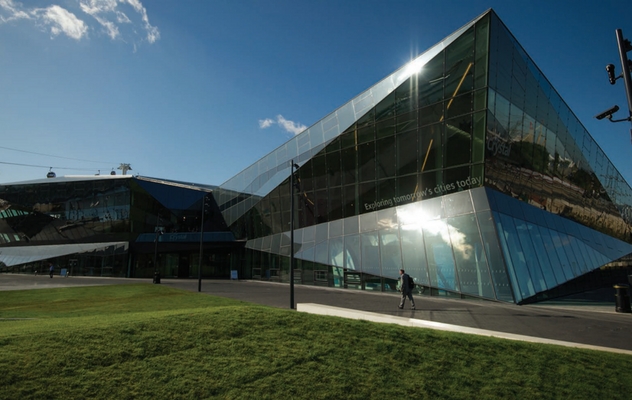 Tiffin Girls win regional CISCO Little Big Awards and move forward to the national finals on 16 March 2017.
Last month, 3 February 2017, four schools successfully reached the CISCO Little Big Awards regional finals held at The Crystal. Cisco invited pupils across the country to take part in the Little BIG Awards to explore how life could be made better by connecting the unconnected. We use the internet every day: on our computers, on tablets and mobile phones. You can watch TV, make phone calls, send photos, and shop - all on the internet. But even today less than 1% of all things are connected to the internet. So what can be connected that is currently unconnected?
The Crystal based in Royal Victoria Docks and in the centre of London's new Green Enterprise District, is a sustainable cities initiative established by Siemens, described as one of the most sustainable buildings in the world, explores how we can create a better future for our cities. It is home to the world's largest exhibition focused on urban sustainability, bringing together city decision makers and the public. As a world-class centre it reveals the challenges that cities face, and the ways we can reduce their environmental impact using sustainable technology.  A perfect place to host ideas of CISCO's challenge of connecting the unconnected!
The four schools across London and the South East that successfully reached the regional finals were Super Thinkers in Romford, Tiffin Girls in Kingston, Royal Latin in Buckingham and Thomas's in Battersea.  All worked closely with STEM Ambassadors, role models, including those from CISCO, who provided industry experience and guidance to the students during their journey through the challenge.
Judges, including those from CISCO, STEM Learning and The Crystal were all impressed by the flair and innovative thinking that pupils had shown and furthermore at the 'market place' judges were able to view more in depth information and prototypes on their ideas. Ideas included connected collars for pets and drones for waste removal.
The winners however, were Tiffin Girls from Kingston with a smart personal wrist band device to measure and monitor alcohol levels, to support and encourage those with alcohol dependency and ensuring a more connected approach to many audiences. Tiffin Girls will now go forward to the national finals on 16 March 2017.
You may also be interested in...
Share this resource
Press release
If would like to contact the organisation regarding any press or media opportunities please email marketing@stem.org.uk or call 01904 328300.
Contacting us
If you have any ideas for stories and features on the site please email feedback@stem.org.uk