Bringing industry and education together to inspire young people into STEM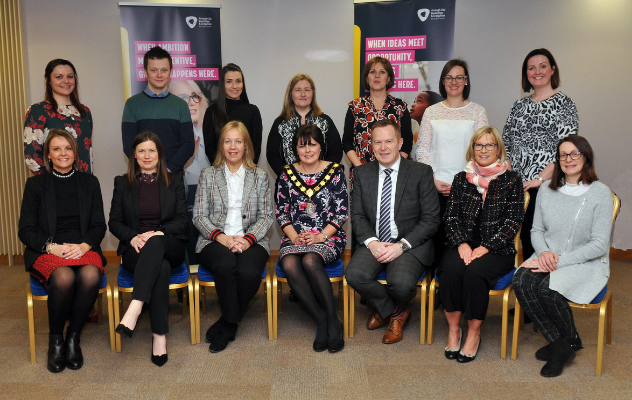 Six schools from the borough of Armagh City, Banbridge and Craigavon (ABC) have signed up to Northern Ireland's first locally funded ENTHUSE Partnership.
Funded by the Association of the British Pharmaceutical Industry, Craigavon Industrial Development Organisation, Healthcare Analytics, Perspective Economics, and Southern Health & Social Care Trust, the partnership forms part of ABC Council's Life & Health Sciences Strategy, which outlines council's commitment to work collaboratively with the sector in order to maximise economic opportunities across the borough.
Local schools, City of Armagh High School, Dromore High School, Newbridge Integrated College, St. Patrick's Grammar, St Ronan's College, and Southern Regional College have all signed up to the partnership, which will ultimately help inspire young people into science, technology, engineering and mathematics (STEM) subjects and careers.
By bringing industry and schools together, the partnership will develop an action plan for the next two years. The action plan will focus on continuous professional development for teachers, consisting of free resources, immersive industry and university placements as well as the opportunity to work with local STEM Ambassadors and set up STEM Clubs. This will help enhance and improve local students' achievement and engagement in STEM subjects and increase visibility of STEM employers in the borough.
Welcoming the ENTHUSE Partnership, Lord Mayor of Armagh City, Banbridge and Craigavon, Councillor Julie Flaherty commented,
"With a significant shortfall of skilled workers within the STEM sector and an expected increase in new STEM roles over the next ten years, businesses within the sector - locally and nationally - are struggling to recruit the right people with the right skills.

"Addressing this skills gap is so important to ensure the long-term stability of this sector and economy, which is why I am delighted to see the establishment of this ENTHUSE Partnership in our borough. This partnership will work towards positively impacting young people's interest, engagement and attainment in STEM subjects to ultimately help build and sustain the STEM pipeline locally and beyond."
To find out more about the ENTHUSE Partnership and the Life & Health Science Strategy please visit: www.armaghbanbridgecraigavon.gov.uk
Share this resource
Press release
If you would like to contact the organisation regarding any press or media opportunities please email marketing@stem.org.uk or call 01904 328300.
Contacting us
If you have any ideas for stories and features on the site please email feedback@stem.org.uk