Support for employers and institutions
We work with employers and research institutions across London to inspire young people and demonstrate the essential role that science, technology, engineering and mathematics (STEM) play in career opportunities by bringing industry and education together.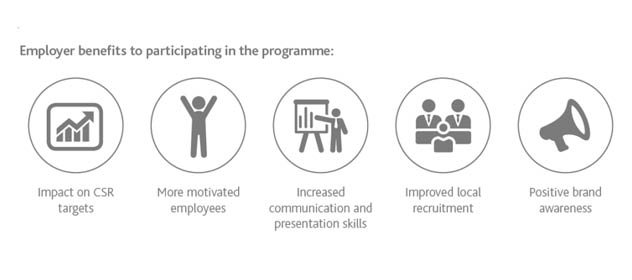 By encouraging your staff to volunteer as STEM Ambassadors you can help enhance the reputation of your organisation in the local community, support recruitment and retention of your staff, and benefit from employees who are more enthused and motivated.
In London, around 2,500 individuals from multi-national companies to SMEs in the private, public and not-for-profit sectors, volunteer their time through the STEM Ambassadors programme by taking part in activities designed to excite young people about STEM and encourage them to consider STEM careers and qualifications.
For employees, becoming a STEM Ambassador provides the opportunity to:
help make a difference in local schools
challenge stereotypes about STEM subjects and related careers
strengthen skills, including communication, planning and presentation skills
access our expert support, training and guidance
have fun engaging with young people that might be interested in a similar career path as you!
Get involved
To get involved contact us on london-hub@stem.org.uk
Our team can support your staff from induction through to participating in volunteering activities that will support your business.
 
What our supporters say:
FSL Aerospace
"There are major skills gaps within the STEM disciplines, mostly because STEM does not have a high profile and therefore does not 'pull' in enough pupils into further education or apprenticeships in STEM subjects. Secondly if SMEs engage with local schools they can encourage local people to potentially concentrate on taking local jobs"
NFER report
"We've been very successful recruiting [students] from a lot of secondary schools and from the colleges as well. There's definitely a big impact there in terms of recruiting the right people in at a young age. So it's a great benefit – STEM Employer" 
Peter Brett Associates LLP
"For too long there seems to have been a disconnection between the skills students learn in the classroom and what employers need for their business. Industry is constantly changing and it's our responsibility to collaborate with academia to provide real-world context for what's being taught to the future workforce."