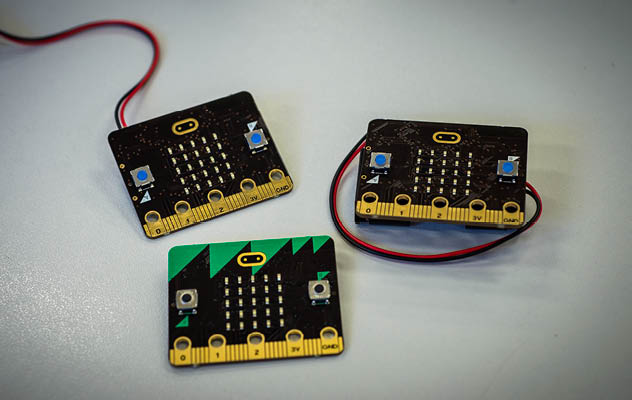 It is again the time of year that I really miss being a teacher. The well-earned summer break is a chance to relax, stock up on vitamin D and maybe spend some time thinking of the next academic year.
So why not combine a little forward planning with a lot of fun, and try out some BBC micro:bit projects?
The BBC Make it Digital team have done a great job in pulling together lots of partner activities into one handy list.
Here are a few selected activities to get you up and about, so grab a battery pack and let's go.
Create an air guitar that gets louder the harder you rock! And while you're psyched, check your heightened reactions. 
Send a BBC micro:bit Mars explorer across the challenging terrain of your back garden.
Grab some summer fruit and make a keyboard.
While away, why not spend rainy summer days grabbing rain drops or playing hide and seek?
Go hiking with the BBC micro:bit compass, count how many steps you take and, while you're away, fit an alarm to your room.
Make a smart beach bag with animated emoji, and keep tabs on those soaring temperatures. Feeling active? Count those beach ball keepy-uppies.
After those impressive moves you might need to quickly check the viability of that beach romance with the love meter. Looking promising? Challenge them to a game of two-player pong.
STEM Learning continues to support the BBC micro:bit. Find and share more great tips and ideas in our BBC micro:bit teacher's group – here you'll find news, resources, where to buy more devices and lots more. And watch out for more news about the future of the BBC micro:bit as it enters its second year. Have a great summer!
You may also be interested in...