As part of Tomorrow's Engineers Week, we asked engineers in our STEM Ambassador community to demonstrate the incredible diversity of people and roles that exist in the sector.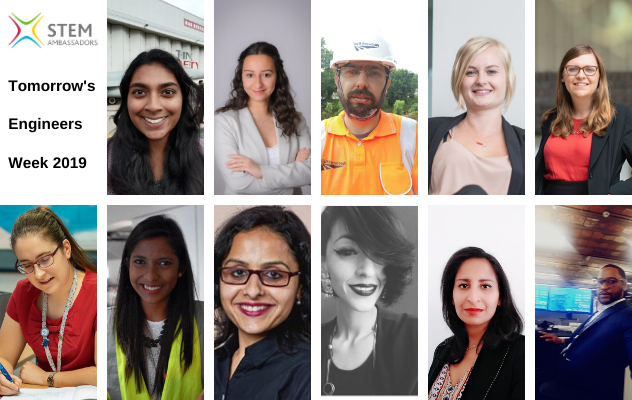 A big thank you to everyone who sent in descriptions of their jobs, along with photos. It was truly inspiring to read through your contributions. Here are a selection of your efforts
 
 Claire Lucas
Director of Studies, Engineering, University of Warwick
My role is to develop and manage the curriculum taught to General, Systems and Biomedical Engineering students at Warwick. I work with institutions, employers and researchers to develop a programme which equips students with the interdisciplinary skills to solve the grand challenges facing the world, particularly in health and transport. 
 Mark Keating 
Director, Flow Science UK
As a STEM Ambassador, I actively engage with local schools and try to make science easy to understand & appreciate. We should all give back; they are our future engineers!
 Krystina Pearson-Rampeearee
Flight Systems Engineer
My role involves developing and integrating new technologies onto aircraft. 
 Alexandros Gavrilakis
Senior Design Engineer at Network Rail
I help to put passengers first, by designing a railway suitable for the future.

 Surbhi Verma
Data Engineering Developer
As part of Tomorrow's Engineering Week, I will be delivering careers talk at Stretford High School to help pupils understand the importance of software in today's world and encourage them to take up STEM subjects.

 Sotira Georgiou
Senior Structural Engineer at Ramboll
I have a lead structural role within multidisciplinary teams, designing buildings in the UK and abroad and managing the delivery of the structural design. 
 Clayth Joseph Bourdette Xavier
Process Engineer in Oil & Gas
Every day helping safe growing consumers' energy demand sustainably.
 Jenna McGarry 
Biomedical Engineer, Head of Information Security & Quality Management 
I love participating in STEM events to encourage children and try to remove the associated stereotypes. Teaching them that studying these subjects equips them with many transferable and critical skills for their future both personally and professionally.
 Louise McHattie
CEO & Chartered Engineer at aemTEK LTD
I help companies manage their legal health and safety obligations and it build culture amongst the workforce, which is a critical factor in reducing workplace accidents.
 Alice Lee
Sales and Marketing Apprentice and studying for a HNC in Mechanical Engineering in Gloucestershire
 
Ultra is a specialist aerospace engineering company. We operate mainly, but not solely, in defence and other highly-regulated markets and are focused on providing mission-specific, bespoke solutions and capabilities. I use my engineering understanding from studying at college to be able to demonstrate these capabilities to our customers on a day-to-day basis.
 David Neadle
Chartered Chemist and Fellow of the Royal Society of Chemistry
You may wonder why a chemist is responding to an enquiry about careers in engineering. Well, I spent 40 years of my working life in Tribology which is very definitely an interdisciplinary science, requiring the skills of engineers, designers, materials scientists and chemists.
Tribology is the science of interacting surfaces in relative motion. It includes the study of friction, wear, lubrication and design. So I also studied mechanical engineering and metallurgy, enabling me to work together with engineers in a very wide range of industries.
Is Tribology important? Well you could say that it is quite important because, without it, every mechanical device, including all modes of transport, would grind to a halt.

 Preeti Mistry
Structural Engineer
I design buildings such as schools, railway stations, airports etc. I am responsible for ensuring that facilities are well designed (ie columns/walls are not located directly in front of doors); buildings are stable come wind, snow or hail; and most importantly, provide a safe and fit-for-purpose environment for the users.

 Jess Bullock
Team Leader of Customer and Sales Support 
I work at Festo Ltd, a global automation supplier that supports many STEM activities, for example hosting students each month to demonstrate the capabilities of technology and the many career options available within our industry. There are many creative ways that engineering can be utilised to solve common challenges, as demonstrated by Festo's Bionic Learning Network (take a look at our adaptive gripper for example, inspired by a chameleon's tongue!), and I am proud to promote such educational initiatives that help inspire tomorrow's engineers! 
 Mominah Waseem
Thermal Modelling Engineer 
I play an important role in reducing carbon footprint and ensure buildings are more energy efficient. My aim is to reduce global carbon emissions providing a clean environment.
 Emily Rowe
Trainee Clinical Scientist in Clinical Engineering
Clinical engineers help make the world a better place by helping to improve healthcare, which is very technology dependent. In my role, I have been involved with ensuring medical equipment is safe and available to use when it is needed, providing assistive technologies to people in need, using motion capture camera systems (like the ones used to make CGI movies) to help inform treatment decisions and shaping the future of new system designs to solve unmet challenges.
 Grace Munday
Senior Mechanical Design Engineer
As a mechanical design engineer I am responsible for the structural design of mission critical situational awareness solutions for naval applications. In this role I am currently working on the design of a new generation of stabilised platform that will enable naval personnel on board ships to identify and range targets.
 Anna Preston
Chartered Civil Engineer
I wanted to contribute to TE Week as an active female STEM Ambassador, working in construction. My job title is Development Team Leader. I design & develop new temporary works products for the construction industry. These products are used to support anything that could pose a danger during construction, such as unstable buildings, bridges or ground during excavation; they ensure that permanent construction works can be carried out safely. I'm a female working in a male-dominated industry and am also autistic. I love that I'm part of a diverse workforce that's shaping the future.

 Bianca Cefalo
Space Systems Thermal Product Manager at Airbus Defense and Space UK
I enable my teams to develop and implement disruptive thermal management solutions for Next Generation Telecommunication Satellites, which connect us all on a global scale and support the advancement of less favoured regions with the provision of ultra-fast satellite broadband and telemedicine services in emergencies or disaster situations.
 Melissa Ahmed
Managing Director, Techwuman Ltd
I am a Design engineer and I love my job because I can apply my passion for problem solving, mathematics and my creative flair and design. Techwuman Limited is an engineering consultancy company offering a range of engineering solutions. Our key aims are to promote more women into Engineering, to improve the gender equality in the industries and to promote the variety of STEM (Science, Technology, Engineering and Maths) careers to the next generation.