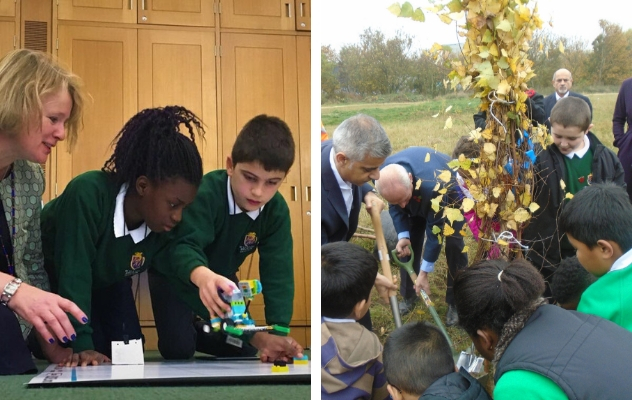 At Willow Brook Primary School, we have been on a mission to raise the Science Capital of our pupils.
The Science Capital concept was first developed in the ASPIRES project – a longitudinal study tracking how young people develop their science and career aspirations from the age of 10.
Many experts have talked about the "secondary slump" and the challenge of transition between primary and secondary schools. As a primary school teacher, I am keen to bridge the gap and soon after I started at Willow Brook in 2016, my senior colleagues supported my application to become a Raspberry Pi Certified Educator.
Flying high
Following this, we got involved with the Skycademy high-altitude balloon flight, a training programme that provided a high-altitude ballooning experience for UK-based educators.
This programme, along with the European Space Agency's AstroPi challenge, has direct links to the topic of Earth and Space in key stage 2 science, as well as maths, computing and geography.
Children from the age of 4 can also get involved with the Skycademy programme, as there is a huge opportunity for story-telling and writing.
For the rest of the primary cohort, particularly in key stage 2, writing opportunities include obtaining formal correspondence with official organisations, publishing instructions or recounting learning experiences. By filming or video-recording their learning experiences, pupils can also work towards an Arts Award, which can include links to music for those who choose to compose a score to accompany the video footage or animation.
Bringing the micro:bit into the primary classroom
By embracing such a cross-curricular approach, the standard of teaching and learning for computing at Willow Brook meant that the school became accredited as a BCS Computing at School Lead School. 
Through this network and the power of social media, Willow Brook received enough micro:bits to set up an exceptionally popular (over-subscribed) after-school Code Club. 
Following the club's success, coding using the micro:bit has now become established as part of the in-timetable curriculum for computing in Year 5 (9 to 10-year-olds). By adopting such an approach, the school attracted international interest and recognition as a world-class pioneer in teaching computing.
Demonstrating inclusivity through LEGO
Another of my personal highlights was being invited to be one of the first schools to take part in the Mayor of London's collaboration with LEGO Education RE:CODE London coding and robotics challenge. The children who took part in this competition included those who would not usually be able to access the National Curriculum – this really helped to demonstrate how inclusive teaching and learning coding and physical computing can be.
Willow Brook was subsequently fortunate enough to be invited by a senior manager from LEGO UK to demonstrate the experience at the Houses of Parliament to Vicky Ford MP, who, at the time, was a member of the cross-party Science and Technology Parliamentary Committee.
Branching out and creating a buzz around STEM
Science Capital, of course, is not just about engaging children through physical computing and learning to code. Through a donation from Osborne Construction, Willow Brook have two bug and bee hotels. The structures were built by volunteers from the company using waste materials that would have otherwise been added to landfill from a local regeneration construction site.
Willow Brook is also, quite literally, branching out with an offer from the Woodland Trust of 420 saplings - sufficient to cover an area of over 7,000 square metres, or equivalent in size to the pitch at Wembley Stadium. The saplings will be planted in a park within a short walking distance of the school as part of a woodland planting project established by Waltham Forest Council in 2016.
Such rich teaching resources enable a cross-curricular approach to be applied within National Curriculum statutory requirements for a wide range of subjects, covering everything from maths to music.
There will also be wider impacts for those directly involved in the planting, managing and monitoring of the plants, including:
making a contribution towards combatting climate change
impact on the local eco-system as a flood defence
biodiversity rebalancing and building ecological resilience
improving health and well-being
The longer lasting legacy will be extending the establishment of a new woodland which if preserved could enrich science capital for many generations to come.
You may also be interested in…