Robin and Lucienne Day, British designers who changed the landscape of furniture and furnishings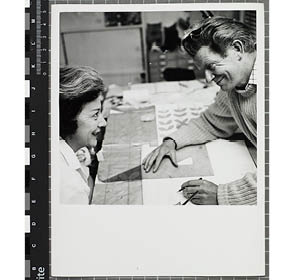 This month, we take a look at two designers who shaped post war Britain with mass manufactured designs that brought innovative and affordable design to the British public.   
Working on back to back drawing boards, but working independently, Robin Day OBE and his wife Lucienne Day shared the spirit of optimism that ran through post-war Britain, believing that design could make the world a better place. 
Robin Day created designs for over seven decades. However, he is probably best known for his Polypropylene Chair, originally designed in 1963 for Hille. The chair uses rolled edges to give strength to the injection moulded seat, supported by a stackable frame. This online booklet contains measurements of the chair and further information on the design itself. 
Lucienne Day worked over five decades, designing iconic wallpaper, fabrics and ceramics in bold bright colours, using modern abstract art as an inspiration. Her first major success, a textile called Calyx, was produced for the Festival of Britain. 
Lucienne and Robin applied their art and design to offices, universities, schools, homes and public buildings across the world. His work was included in the Barbican Centre, the Royal Shakespeare Theatre and the Mexico Olympics. Her works hang in public and private spaces, including the Queen Elizabeth II Conference Centre. 
To find out more information about these two iconic British designers, visit the Robin and Lucienne Day Foundation website.
This video is a great insight into the couple's life and you can see examples of Robin Day's early design work in this 1952 video on Contemporary Furniture.
Image:
Robin and Lucienne Day in their Cheyne Walk studio with design for Periwinkle (1964). Copyrighted - the Robin and Lucienne Day Foundation.
Day Foundation Archive id: 3843