Planning, preparing and implementing the new design and technology GCSEs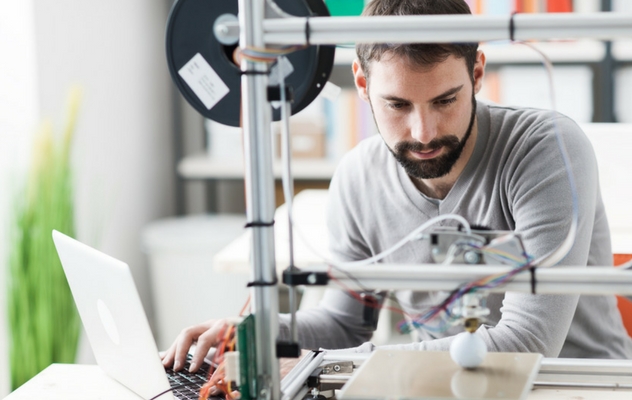 Simon James is Head of Department at The Warriner School in Bloxham near Banbury. We chatted to him about the new design and technology GCSEs and the opportunities and challenges they will provide for both the teachers and his students.
At key stage 4, our department is teaching GCSEs in food preparation and nutrition, design and technology (resistant materials, graphics and textiles) and engineering. In September we will be offering the new 1-9 GCSE in design and technology. We will also be teaching NCFE craft, BTEC fashion and clothing and BTEC digital media if there is sufficient uptake.
What is your department doing to prepare for the new curriculum?
A significant amount of time this year has been dedicated to rewriting key stage 3 schemes of work to marry up with the GCSE content. All our teaching at key stage 3 within the rotations has been changed. We now use a more context based approach, although the traditional making still takes place.
We have also included specific rotations on the subjects covered in key stage 4, giving students an experience of the subjects before choosing their options.
CPD has been vital - we have attended a number of the CPD sessions by the examination boards as well as one of STEM Learning's two-day courses on the new GCSEs. Our department also arranged a one-day bespoke CPD activity on the use of the Crumble and its applications throughout the various areas of the new 1-9 GCSE.
We have been spending time looking at the new curriculum and generating a skills matrix for each of the modules against the new GCSE content and our key stage 3 project outcomes. We are also moving towards new and emerging technologies, with a major push to get 3D printing as a viable option for prototyping of small parts, especially at GCSE and A level. 
What are the main challenges for your department?
The main challenge will be the retention of student numbers on courses. Due to the Government's push for progress 8, what are perceived as traditional, non-academic subjects are slowly being squeezed out of the curriculum models in favour of meeting the new measures. This has happened to some small extent here, but the school wants to support design and technology as well as the more vocational routes that the department offers. 
Parent and student perceptions will also be a challenge as they are used to having the subject separated - this is what they studied and so did their parents. It will take some time to get the message across that the subjects can still be specialised in, although in a different format.
Convincing students that the core knowledge is essential will also be a further challenge. This is why at key stage 3 we have changed our curriculum model to include the new subject titles and some elements of core content are included in the GCSE.
Funding is also a concern as there will need to be a range of new textbooks bought, and a wide number of CPD activities will need to be attended. Within design and technology, there is a greater emphasis on programmable components and more modern production technologies, these will place additional financial pressures on departments.
The moderation and marking of the students' work will also be a concern as the exam board's approaches are so different.
I am also concerned about future recruitment of staff, as, at present, teachers are not being trained with a wide enough subject knowledge base. The days of having a resistant materials teacher who does not set foot outside the workshop disappeared years ago, trainees need to be trained in all areas so they can fulfil the role of a modern design and technology teacher.
How is your department planning to teach the new KS4 qualifications?
All of the non-vocational subjects that we can offer will be timetabled at the same time (five hour-long lessons per fortnight). Of this, a number (two at present) will be put over to the core content and these lessons will be rotated around staff so that they can pass on their specialist knowledge within the core content. The three remaining lessons will be for the specialist content.
My team are very flexible, 90% teach two or three subjects out of our offer so adaptability is not an issue.
What opportunities do you think that the new curriculum will provide your department?
The curriculum changes will allow staff to broaden their horizons and get their creative juices flowing. Generally, as a department, we are always in each other's subject areas, and we try including other subject areas where we can. It will allow us the opportunity to start from ground zero and build a curriculum that is more relevant to how the world operates today, rather than adapting an antiquated approach.
For the students, I think that the new curriculum will allow them to be more creative and also experience a more realistic design and make process, as generally, products do not just involve one material, which is typically what we are limited to at the moment.
It will also allow students to gain a greater understanding of the wider issues that surround design and technology, as well as a better awareness of what can be created and manufactured through a multi-faceted approach.
Find out more