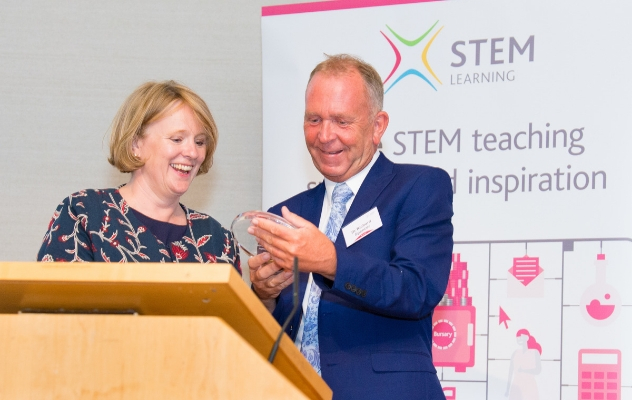 Dr Richard Spencer, Head of Science at Middlesbrough College, and the winner of the 2018 ENTHUSE Celebration Award for Excellence in STEM teaching –  Further Education category shares his experience about the difference the award has made to him, his school and pupils.
Many teachers go 'above and beyond' their day-to-day commitments. However, teachers are, typically, modest about their achievements and their extensive contribution to the lives of their students and colleagues. There are many reasons why you should apply for an ENTHUSE Celebration Award. Don't think about 'Why should I apply?' but 'Why not?'
Having completed my application in 2018, I was delighted to be shortlisted for a regional award and to be invited to an event at the Centre for Life in Newcastle. I learnt that I had won the regional heats for the ENTHUSE Celebration Award in Further Education.
As one of the winners from four UK regions, I was invited to a national celebration event held at the Royal Society. The celebration evening was very enjoyable and provided an opportunity to find out about exceptional STEM educators from primary, secondary and tertiary sectors. Winning the FE award, which was presented by MP Vick Ford, was the icing on the cake, although I was somewhat shocked and had no speech prepared! A round of photographs followed.
"In an increasingly competitive market to attract students, a national award sets your school or college apart."
Middlesbrough College has benefitted from the publicity arising from the STEM Award success, with articles appearing in Teesside's local newspaper, in the College's STEM newsletter and in the A level prospectus. Subsequently, I was interviewed by the National Union of Teachers for The Teacher magazine as part of their 'A Class Act' series.
In an increasingly competitive market to attract students, a national award sets your school or college apart – prospective students and their parents and carers know that there is something special about your school or college. It's not just you claiming it – your efforts have been recognised by an esteemed national organisation.
As a direct result of winning the FE Award, I was invited to the Association for Science Education Conference which was held at the University of Birmingham this year (2019). I presented two sessions – one on Enrichment Projects and a second on Excellence in FE Teaching. The audience was surprisingly diverse, with teachers from the UK, Germany, Belgium, Norway and Denmark amongst the delegates. Subsequently, I wrote an article focussing on one of my students' enrichment projects for the ASE's School Science Review.
To conclude, you should apply for this award because, whether you are shortlisted or whether you win, there are many benefits. The 'feel-good' factor amongst your students and colleagues; the positive publicity for your college and the opportunity to communicate what you do to a wide audience, particularly through involvement in the annual ASE Conference.
But, it's about much more that than that: it's a celebration of what teachers do to enrich the learning of their students. You ought to be part of that celebration – you deserve it!
You can follow Richard on Twitter @Rasyoulikeit.
Could you be an ENTHUSE Celebration Award winner?
You can nominate yourself, or someone you know, for an ENTHUSE Celebration Award.