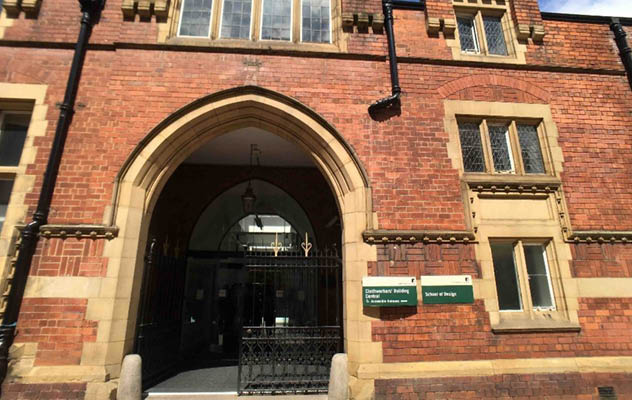 Written by: Julie Boyd (@julieboydonline)
The University of Leeds has a long history of textiles. Part of its origins stemmed from the local textiles industries wanting to compete with the rapid development of new technologies in Europe. Nowadays, this Russell Group University are world leaders in textiles research and innovation.
Last term, as part of a two day CPD activity at the National STEM Learning Centre in York, we took a group of teachers to visit the textiles department at the University of Leeds.
Our visit to the University started with a talk from Dr Parik Goswami on medical textiles. Most of the talk is too top secret for us to share, so you will have to take my word for it when I say we were blown away by the textile developments that will hopefully be making a difference to thousands of lives in the next few years. However, I can share with you the importance that Dr Goswami gave to interdisciplinary collaboration between departments.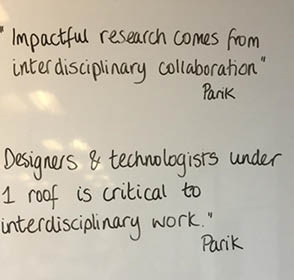 Rather than textiles working in isolation, Leeds University encourages designers and technologists to work together, sharing their skills to solve real life problems. This idea of interdisciplinary collaboration for me, links well with the 'broader materials' approach at key stages 3 and 4, currently being developed by design and technology departments across the country.
Although I think the GCSE design and technology 2017 content is far from perfect, I did get a feel from the published draft specifications that there was a focus on materials in their broader sense, along with a focus on science and technology.
The second part of our visit involved a tour by Dr Mark Sumner of the research department and a tour by Dr Andrew Hewitt of the Nonwovens Innovation and Research Institute. Again, this was another very top secret part of the University, but we can tell you about two exciting non-woven products that we got to see first-hand:
Wear2 is a technology that uses a conductive thread in the manufacture of garments. At end of life, the thread can be heated up in a special microwave, dissolving the thread and enabling the garments to be quickly disassembled.
"Wear2 is an award-winning technology that involves disassembling garments at end of life. It enables the removal of tags, labels, zips and other similar materials easily and inexpensively, saving both time and money." - Wear2 website
Take a look at the website to see a demonstration video and more information.
SurfaceSkins are non-woven antibacterial push plates for doors. They provide a:
"safe, sterile and clean touchable surface. When pressed, they release a small amount of ANY antibacterial solution [such as alcohol gel] onto the top of the product, providing a safe sterile touchable surface, in the vital few seconds between one user and the next passing through a door and acting as though the door has been wiped down after every user." - SurfaceSkins website
Take a look at the website to see a demonstration video and more information.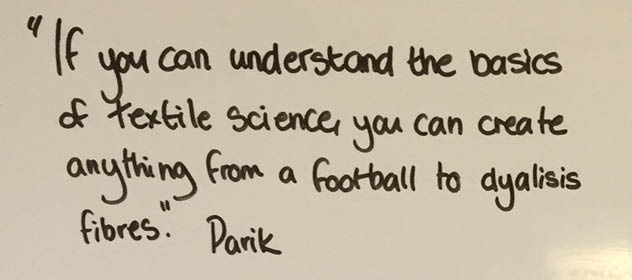 Back in the classroom
Back at the National STEM Learning Centre in York, teachers spent the second day of the CPD activity doing lots of experimental work and practical activities to help them put what they had learnt at the University into the classroom in easy and affordable ways.
A big talking point between teachers was the passion the three lecturers had for textiles and how it really proves that the barriers within schools to boys doing textiles can and should be challenged.
If you are interested in experiences this impactful CPD yourself, Technical textiles: using smart and modern materials in design and technology is running on 25-26 November 2016.
You may also be interested in…