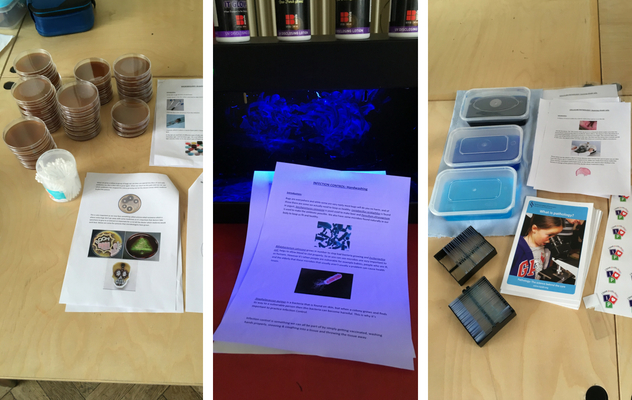 I work for the NHS in Oral Pathology and Microbiology at the University Dental Hospital in Cardiff. We work very closely with the School of Dentistry at Cardiff University and, because of the resources, research, teaching and service we provide, it makes us the only one of its kind in Wales.
I'm an Associate Practitioner and my role involves turning a biopsy into a slide to issue to the pathologists. Our pathologists then provide other consultants with a report and together, with other healthcare professionals, they decide the best way to treat or manage a patient's condition.
Pathology is involved in around 70% of patient's diagnoses and there is concern about the shortfall of professionals in the future.
I'm passionate about my job and, whilst talking to my colleague about how I wished there was a way to showcase our profession to students, she told me about the STEM Ambassadors programme. As she was explaining, I realised that this is exactly what I wanted to do to raise the profile of the department I work in.
Being a STEM Ambassador has given me the most amazing platform to engage children in science. The great thing about going into schools is that I get to work with groups of pupils that are usually under-represented in science and become disengaged as a result.
I've visited a few primary schools, but I wanted a new challenge and was keen to reach a bigger audience. I contacted Techniquest in Cardiff to see whether I could use the lab they have there.
With National Pathology Week taking place in November, I wanted to put on an event to tie in with this. I was invited to meet with Andrea Meyrick, who is the Head of Education at Techniquest and was very keen to help me host the event. We decided that one day of the event would be targeted at key stage 2 pupils and the second day would be a drop-in session on the main floor of Techniquest.
Through the event, I am aiming to show a variety of disciplines of pathology – we'll look at staining cheek cells, use a salad spinner to demonstrate centrifugal force and its use in biochemistry, look at bugs and how they keep us healthy and also how good infection control can prevent the bad bugs making us ill.
If this event is successful, then it could be rolled out over the whole of National Pathology Week starting next year, which I'm really excited about.
"Being a STEM Ambassador has given me the most amazing platform to engage children in science."
I have recently completed the online courses 'Planning Activities' and 'Resources and Diversity' on FutureLearn. In doing these, I have gained an enormous amount of confidence.

With the help of these online courses, I've been able to plan practical sessions without much trouble. Together, along with a Royal College of Pathologists course on Science Communication, I have gained so many ideas and I know I have the right resources to help me. Having planning templates has been hugely beneficial in helping me to decide which practical sessions I want to run and to ensure the sessions help to achieve the objectives of the event.

Doing these courses has also made me more aware of trying to be all-inclusive and, as a result, I am hoping to learn British Sign Language in the near future. I was inspired to do this as a local school I've visited a couple of times has a Hearing Impaired Resource Base (HIRB) unit.

I'm so glad it was suggested that I take on the role of being a STEM Ambassador as it's given me opportunities I would never have had otherwise. I can only achieve all of this because I have amazing colleagues and managers who constantly encourage me and are completely understanding of the role of a STEM Ambassador and what I want to achieve as one.

Share your STEM story

As the academic year draws to a close, we want to celebrate your achievements. If you have an inspiring story that you would like to share, we'd love to hear from you.

Documents to download