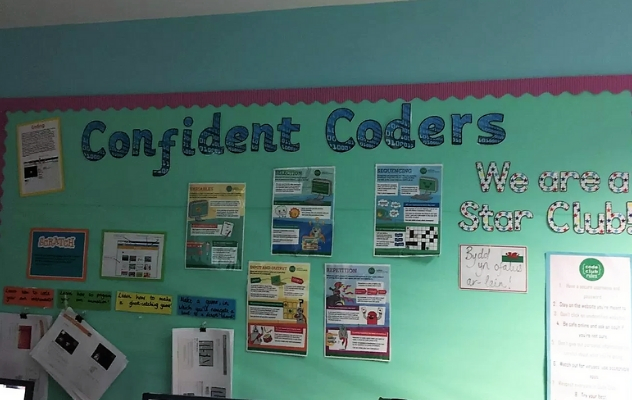 At Code Enigma, we're thrilled to demonstrate that we live by the same values as STEM Learning and are equally as passionate about helping children to break (or should that be <br>) into coding.
In support of STEM Clubs Week, we wanted to feature Adamsdown Primary School Code Club, which our Head of SysOps, Jamie Wiseman, has been helping to run for the past five years. We talked to Jamie about why he decided to get involved.
Initially, I wanted my son to enhance what he was learning at school; beyond using Word and Paint for fun. Children know how to use XBoxes and iPhones, but I wanted to teach him how they work and so I became involved with the Code Club. Now, my son has been attending for half his life!

I wanted the kids to experience the full potential of their creativity. I wanted it to spark an interest in how code works. Plus, a decent grounding in programming is fantastic for their careers later on.

My experience allows me to share my skills, and that mentality is at the heart of the community I work in. At Code Enigma, our developers and designers regularly contribute to open source projects and in my mind, this absolutely counts as a contribution; giving time and knowledge to future coders.
Teacher, Jessica Davies shares the same passion for the club, saying:
Code Club has been running for a number of years with support from our parent link governor, Jamie Wiseman. Since starting an initial coding club five years ago, we have grown and developed into a successful Code Club and now are an official 'Star Club'.

The children who take part have been such a success; with pupils accessing Scratch, HTML, micro:bit and Python. We have really enjoyed and continue to enjoy helping pupils enhance their coding skills.

Jamie offers great explanations and support to both the children and I. Having this external support means that the children get an insight and opportunity to understand the skills needed for a career in ICT first hand, which is so valuable.

Our Code Club is important to us and to the children. We are providing our children with opportunities to use tech that they may have not experienced before or have the opportunity to do so at home. Giving the children the freedom to 'play' around with programming and tech has encouraged further learning within the school and given the children confidence to support one another on projects.

We hope that we can continue to progress and provide support to other learning organisations who are planning on setting up their own Code Club.
We also caught up with Maria Quevedo, Director of Code Club. She added:
We're so grateful to committed volunteers and educators like Jamie and Jessica who have enabled Code Club to reach more than half a million 9-to-13-year olds in the UK, helping the next generation to get creative with technology and become makers, rather than just consumers of technology.
Suffice to say, we're all keen to encourage more clubs like these!
Read more about the STEM Clubs programme
Celebrate STEM Clubs Week with us
STEM Clubs Week is running from 4-8 February 2019 and is a week-long celebration of the amazing work clubs do across the country. Keep up with everything that is happening this week by following @STEMClubs on Twitter and use the hashtag #STEMClubsWeek.