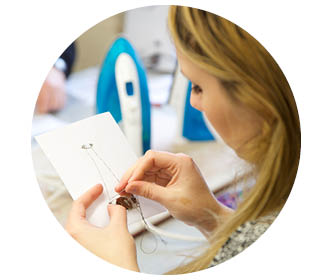 You only have to look around our high street to realise that wearables and electronics in textiles are here to stay.
A recent report by IDTechEx, a market research company who specialise in emerging technologies, forecasts that the market for e-textiles is currently worth $100 million and will grow to be worth $3 billion by 2026. Larger names are now entering this field with sport and fitness, and medical and health applications expected to be the biggest growth areas, with applications expected to impact across the whole area of textiles from fashion to interiors, footwear to toys, along with just about any other textiles products you can think of. 
New developments are happening all of the time especially with new battery technologies including solar power and flexible, wafer thin batteries. Conductive yarns are also being integrated into fabrics, turning the fabrics themselves into the circuit for components to attach to.
The young people we are teaching will be the designers and manufacturers of this technology, our challenge is to prepare them for an electronic future that we can't yet predict. Many teachers are apprehensive about using e-textiles components, and in particular, teaching students how to use the programing devices that control them. 
If you would like support with incorporating e-textiles into your KS3 and KS4 curriculum, there is a two day bursary funded CPD activity this Summer term that is a great starting point. The course is hands on, with lots of samples that can be used as instant resources for back in the classroom. No previous knowledge of electronics, e-textiles or programming is needed.
Author, Julie Boyd
@julieboydonline
www.julieboyd.co.uk