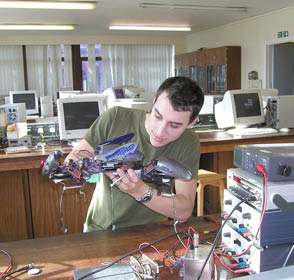 The UK manufacturing sector must grow in order to contribute appropriately to the UK economy.
A vital component driving this growth will be a pipeline of work-ready employees, particularly engineers. A major factor affecting this pipeline will be the numbers of young people studying STEM subjects. Unfortunately 55% of young people know little or nothing about STEM careers. [1]
Where do young people receive careers advice?
The 2013 Wellcome Trust Monitor found that 67% of young people obtain information about possible careers from family, second, at 49%, were teachers. Worryingly, only 17% of young people found information from their teachers to be useful.
In 2010 the National Audit office noted that improving careers information and guidance is one of the critical factors in improving the take-up and achievement in science and mathematics. In its report on choice and aspiration the DfE said "subject specialist teachers should be able to relate their subject to future learning pathways and the world of work, and give advice about progression in those subjects". [2]
Education and Industry in partnership
This is why the National Science Learning Network with support from The Institution of Mechanical Engineers and the Institution of Engineering and Technology established the  Teacher Industrial Partners' Scheme (TIPS). TIPS enables teachers to update and enrich their knowledge of industry through a two-week placement with a local engineering or technology company. This exposure provides teachers with an understanding of the progression routes that link to an engineering and technology workplace. Participating teachers are able to speak with authority about careers that support the manufacturing sector and develop a better understanding of the employability skills required by young people to be successful in industry. By taking these messages back to school they can enhance the learning experiences of their students and share this knowledge widely with their colleagues and parents.
Feedback from participating teachers has been overwhelmingly positive. The TIPS experience has enabled them to enthuse and engage their students in STEM subjects. Importantly, they also gained an appreciation of the value of vocational career paths such as apprenticeships into the workplace; understanding for the first time that apprenticeships can lead to well-paid jobs and even degrees that they were comfortable to promote to students, colleagues and parents. Perhaps the most telling feedback to date is from Jo Cox [3] , who said:
"before this placement I would have probably encouraged a student to consider another career if they had come to me and suggested manufacturing".
Through the direct involvement of employers, TIPS is a cost effective way of ensuring that careers information is successfully linked to the curriculum and that the importance and relevance of STEM subjects is highlighted to young people. Clearly there is more to do. To be successful we need at least one teacher from every secondary school to have participated in a placement.
[1] Wellcome Trust Monitor: Wave 2, 2013, page 124
[2] Quality, Choice and Aspiration: A strategy for young people's information, advice and guidance, Department for Children Schools and Families, 2009
[3] Jo Cox, Redmoor Academy Faculty Head of STEM, Science Specialism. TIPS Participant October 2014. Speaking at an event at the House of Commons 3rd February 2015 "A Decade of Excellence in Science Teaching"