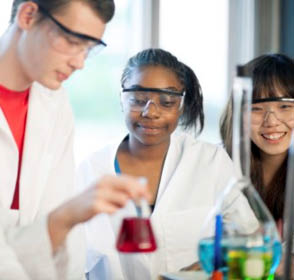 Sally Norville is from Canon Lee School and is one of 50 teachers to win £1,000 for their school as a result of their entry in the Rolls-Royce Science Prize. In this article she outlines her entry for the prize and the effect it has had on her school.
Is your science faculty stuck in yesteryear? Ours was! We were disjointed and had no clear direction.  However, we refocused and turned our approach around to become a united front, much to the benefit of our students. To do this we focused on three key threads, all fundamental to our success.
To facilitate quality assurance across the department and enable further developments
it was important that we are all 'singing from the same hymn sheet'. As a Faculty we agreed to invest in schemes of work
the faculty had never used a scheme of work pre-September 2013 and was very disjointed in its approach. We had wasted far too much on photocopying and were all teaching different things
our aim was to become organised, set up filing systems, reuse sheets and cut down on waste. This is now really coming along well!
We agreed to aim to improve student engagement through developing a series of metacognitive activities to complement the scheme of work
such activities would include games that would interest and enthuse students. All members of the Faculty got involved and we even invented a new game 'tabarrioo'
Practical skills in science are so important
students in all age groups were targeted for development of their enquiry skills. For example we only give them a title such as 'which is the most dunkable biscuit?' and the students had to come up with everything else. This has worked wonders for their investigative skills and introduced them to terms like "independent and dependent variable." The students have really enjoyed working at their own pace and choosing their own criteria and applying this to their KS4 controlled assessments
We still have a way to go but have really come together as a team and are leading the way for faculty development in our school. Go team science!
The Rolls-Royce Science Prize is an annual awards programme that helps teachers implement science and mathematics teaching ideas in their schools and colleges. The awards programme is open to all schools and colleges in the UK.