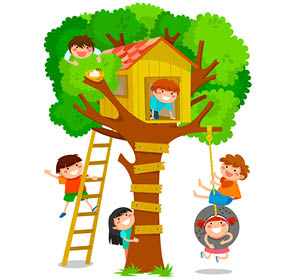 'He was lying in a kind of shelter. Looking up he could see a roof, or a part of a roof, made of elder branches, a very rotten carpet, and rusty old sheets of iron.'
Stig's cave, though lacking somewhat in modern health and safety standards, was a place of wonder for Barney as he tumbled into it. After all, what could be more exciting than having your own den? A sanctuary hidden away from the adult world where adventure can happen…
Den's feature in a number of children's stories, think back to the Secret Seven's club house with their ever-changing passwords and who could forget Stig's cave at the bottom of the dump! So, be it a tent, a tree house, a cosy reading corner, a cardboard box or a table with a cover over it, it is somewhere to crawl into and pretend. Even the most ordinary thing, such as having a snack or reading a story, becomes more fun when hidden away.
Whether your den is an exciting grotto with sparkly lights, a space ship or a dark cave, a den provides a place for excitement, adventure and creativity and a practical area to investigate light and shadows. They are as well, the most basic form of a shelter and building one requires many skills and qualities including: creativity, mathematical skills, problem solving, team work and thinking skills. It is also important to choose suitable materials for a den and to evaluate and re-design if necessary. If aiming for a waterproof den, it is fun to test this with a watering can once built!
Save the Children Den Day takes place on 17 June and is an example of a project that allows children to think about solutions for problems that they see all around them and get them thinking about the challenges other children face around the world and how they might help. 
The children we teach will be the designers, builders, town planners and forest managers of the future. They will have to design systems, buildings, towns, flood defences and earthquake proof houses. All of these kind of projects require people to think innovatively, have knowledge of materials and their properties, to test things in a systematic way and be aware of the local environment.
So if you are feeling like setting an open ended challenge for your children why not get them to build a den, inside or outside for Den Day? 
We would love to see any photos of your dens and any ideas for activities that you have done with your children. Please share your images with our primary group.