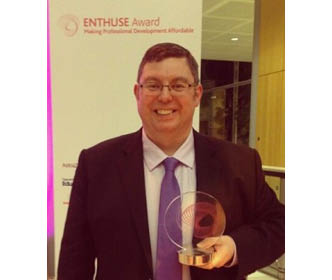 "It was whilst I was on stage with all the other winners and finalists I started to realise what a fantastic achievement this was."
My name is Phil Wilson and I am currently Senior Technician at Broadgreen International School in Liverpool. I am an RSciTech and also a member of the ASE Technicians Committee.
Since 2009, I have been attending courses at the National STEM Learning Centre, including the first year of the very successful STACS course (Senior Technicians Accredited Co-leaders in Science). This qualification enabled me to reflect on my day to day tasks and to improve my skills and knowledge, ultimately making me a better technician.
In 2013 when the ENTHUSE Celebration Awards were launched, I nominated myself to show that technicians are doing a very important job in schools and this needs to be recognised at a higher level. These Awards gives you the platform to do just that. Applying was easy and I gathered together as much evidence as possible of all the things I had achieved. This was done in the form of photographs, written feedback from schools, teachers and other technicians. For me this included running "happy hour" sessions for younger students, visiting local primary schools and organising science trips. I was also involved in a large number of technician projects including being a Technician Advisor for the Gatsby which involved me going into a struggling science department and providing training and support.
The finalists were invited to a ceremony at the Wellcome Trust in London which was an absolutely stunning venue. This consisted of drinks and canapés whilst showing off science demonstrations to the VIP guests, and also chatting about the importance of technicians in science departments. We were then escorted to our tables for dinner and the awards ceremony.
During the meal I was able to talk to some of the other guests from various science backgrounds who were amazed to hear of the level that technicians in schools are working at. It was inspiring being able to share my journey with them. There were some very experienced and talented technicians in the running and I was honored to become the first National Expert Technician. It was whilst I was on stage with all the other winners and finalists I started to realise what a fantastic achievement this was.
"One of the benefits of winning this award was the boost in confidence and the recognition I achieved" 
This was extremely beneficial in my school as I was able to provide training sessions to teaching staff and encourage less experienced teachers to do more relevant practical work. This benefits the students as I am a firm believer that getting hands-on with science encourages uptake at university and beyond.
Winning this award has enabled me to expand my role outside of school. From setting up the popular "School Science Technicians" group on Facebook, to presenting about the benefits of the ENTHUSE Celebration Awards to Lord Sainsbury and Sir Mark Walport. Over the last few years I have been able to develop my skills by presenting sessions on courses at the National STEM Learning Centre. I became Gratnells Science Technician of the Year in 2013 and I spent a year working in a British School in Brussels.So there you go. If you think you are a technician making a difference and want yourself and your school to be recognised then apply today!
Follow Phil Wilson @floorphillaz
Read more of Phil Wilson's blogs.