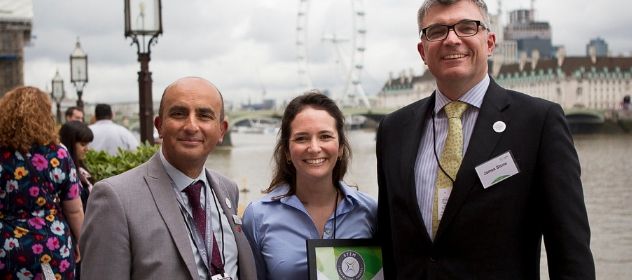 In 2018, Beck Greener was awarded the STEM Employer Award (Small and Medium Enterprises) at the STEM Inspiration Awards.  This was in recognition of their "STEM: Branching Out" project which aims to inspire young people from diverse backgrounds within London to engage with the STEM (science, technology, engineering & maths) subjects at school and to enter STEM careers.  
Dr Catherine Jewell explains more about what winning the award meant to Beck Greener.
In one part of the project, Beck Greener's STEM Ambassadors run a "Spot-The-Invention" workshop in which students examine old and new versions of gadgets to identify improvements.  In another part, we assess the patentability of school science/engineering projects and help students prepare and file real patent applications.  At the Awards ceremony the organisers commented that: "Beck Greener is an outstanding example of how to provide support for young people in STEM, working with stakeholders to support young people more effectively."
We were thrilled to receive this Award – which was actually our second award achievement for 2018 for this project – and such positive recognition.  This has continued to inspire us to develop our project in 2019 in order to reach even more young people in the future.
Winning the Award has helped us to move the project on to its next stage,allowing us to engaging with organisations such as Inspire! and Camden STEAM to run Insight Days at the Beck Greener offices where students learn about IP careers and get a taste of what is involved.  We have taken on two apprentices (working with LDN Apprenticeships), and our STEM Ambassadors have also had further opportunities to judge at Big Bang Fairs this year.  That is not even mentioning the prize itself: a trip to CERN, which was a fantastically enjoyable experience for two of our Partners.
Overall, the award has provided us with additional motivation and opportunities to continue to drive "STEM: Branching Out" onwards, and to share the benefits of this type of project with other businesses.