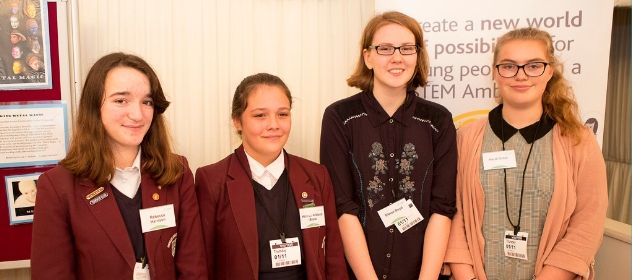 Lynn Nickerson, STEM Coordinator at Didcot Girls' School, was part of the winning STEM Club at last year's STEM Inspiration Awards. Lynn told us how much winning meant to her and the club.
About this time last year, I was sitting in the sunshine idly checking my emails when one suddenly caught my eye. The words "Inspiration Awards" and "STEM Clubs" jumped out at me.  Having run our school's Science Club for quite a while, I was excited to discover that here was an opportunity to showcase what we had achieved over the years.
Luckily I'd noticed the email a little while before the deadline to apply for the awards and this gave me time to look over our past achievements and just as importantly reflect on the many students who had been part of the club, some of whom are now professional scientists and engineers.  With the school's support, I sent off our application and put it to the back of my mind as I began another hectic term in the Science Department.
I was delighted when we heard that we were shortlisted and very excited to put together a display of some of our favourite activities to present at the awards ceremony last November. The visit to the House of Lords was an amazing experience for the four students and two staff who represented Didcot Girls' School Science Club.
Making a lasting impact
However, for me personally, two chance encounters this year have really shown me the impact that our STEM Club has made. Last term I was running a school trip to a local physics outreach day. A teacher from another school in front of me in the coffee queue turned round to pass me a cup – I knew her! She was a former Science Club member and is now a science teacher running her own STEM Club. A few weeks later I was with friends in a local pub when a familiar-looking young lady came over and introduced herself. She is now the Engineering Outreach Officer at Oxford University and she wanted to tell me that she now runs hands-on activities "like we did at Science Club".
I've always believed that running practical, fun extra-curricular science activities can inspire students and encourage them to continue to enjoy STEM after they leave school. The STEM Inspiration Awards have shown me just how true this is.
Could you be a STEM Inspiration Award winner?
Applications for the 2019 STEM Inspiration Awards are currently open and will close on 10 September 2019.