Students from Blundell's School win BP Ultimate STEM Challenge
Two students from Blundell's School near Tiverton in East Devon have won the BP Ultimate STEM Challenge with their invention of a device designed for coffee machines that measures any size of cups, cutting down on plastic pollution and one use cups.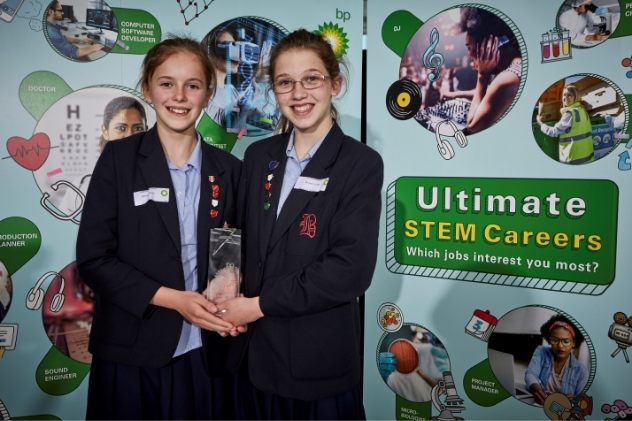 At an event held at the Science Museum in London, Sophia Rochfort and Freya Gillard were praised by the judges for their innovative scientific thinking, excellent presentation skills and passion for technology and engineering. 
Now in its fifth year, the BP Ultimate STEM Challenge invites students aged 11-14 to put their science, technology, engineering and maths (STEM) skills to the test by developing a solution to a real-world problem. The BP Ultimate STEM Challenge aims to engage young people with new challenges that highlight the benefit of STEM study and the array of careers available in STEM.
This year's competition theme was to create an innovative design solution for an everyday problem.
Finalists and judges
On the day, the 11 finalist teams from 10 secondary schools presented their work to an expert judging panel as part of a BP Ultimate STEM Challenge Science Fair. The judging panel consisted of leading scientists and engineers including Bill Hedges, Chief Engineer at BP, Kerry Baker, Strategic Initiatives Lead at STEM Learning, Hilary Leevers, CEO of Engineering UK and Roger Highfield, Director of Science at the Science Museum.
The winning project was a measuring device for coffee machines that checks the cup size before pouring, which makes it suitable for any cup, cutting down on plastic pollution and one use cups. The team won £1000 to spend on science equipment or field trips, as well as Science Museum goodies.
Three student teams were also rewarded for their innovative thinking and creativity. Bredon Hill Academy and Walton Priory Middle School won the 'Highly Commended' awards, while Colyton Grammar School were awarded 'Best Stand'. All the finalist teams received a prize bag of Science Museum goodies and a bronze CREST award.
Freya Gillard, part of the school's winning team, said:
"We're both very pleased to have won! We can't believe it! We're so excited to tell the school when we get back. The best part of our experience was designing and building the prototype - it was a lot of fun! We also loved presenting today and meeting all the other finalists."
Dr Attila Teiermayer, Computer Science teacher at Blundell's School, said: 
"Both the team and the school have worked really hard, so winning today is a fantastic reward for everybody's effort. All the students here today deserve a lot of credit for their enthusiasm, innovation and teamwork. Giving these students the chance to present their ideas, and bring them face-to-face with leading engineers and scientists as positive role models, has given them a truly memorable experience."
Share this resource
Press release
If you would like to contact the organisation regarding any press or media opportunities please email marketing@stem.org.uk or call 01904 328300.
Contacting us
If you have any ideas for stories and features on the site please email feedback@stem.org.uk