Juergen Maier, Chief Executive at Siemens UK, awarded Honorary STEM Ambassador accolade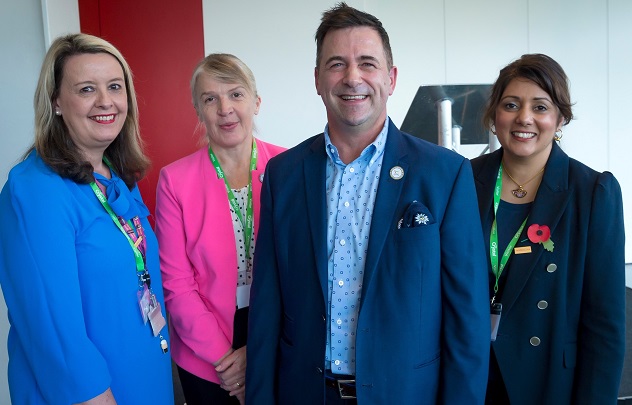 On 6 November 2018, Juergen Maier, Chief Executive of Siemens UK was awarded the title of Honorary STEM Ambassador, at a ceremony in London.
The presentation took place at the 2018 Siemens Education SeeWomen event. SeeWomen is a project which aims to inspire and motivate young people and in particular girls to pursue STEM careers and challenge gender stereotypes. The SeeWomen stage show places the spotlight on modern STEM female role models in Siemens and beyond. It explores women's groundbreaking contributions to science, technology and engineering.
Honorary STEM Ambassadors champion the work of the 30,000 STEM Ambassadors across the UK, who inspire young people in science, technology, engineering and mathematics (STEM).
Honorary STEM Ambassadors, including Tim Peake and Dr Emily Grossman, stand as champions for the importance of STEM education, promoting the idea of a world-leading STEM education for all young people and acting as aspirational role models, demonstrating how far STEM can take you. Siemens UK supports 393 of their employees as STEM Ambassadors, encouraging them to give their time and expertise to help young people.
Juergen Maier joined Siemens in 1986 with a BSc in production engineering from Nottingham Trent University, on a Siemens-sponsored graduate programme. He was made an honorary professor of Engineering at the University of Manchester in March 2014 and became a Fellow of the Royal Academy of Engineering in September 2017.
Mr Maier is a passionate advocate of rebalancing the UK economy and has supported many UK-wide initiatives championing manufacturing and engineering skills, including STEM Ambassadors.
Presented with the gold honorary STEM Ambassador badge by Yvonne Baker, Chief Executive of STEM Learning, Juergen said:
"I am delighted to be named as an honorary STEM Ambassador, and I believe that inspiring the next generation to advance their skills is vital for the future success of UK engineering in all its forms. I look forward to using my role as an Ambassador to work with young people and hopefully find opportunities to promote how new technologies can ultimately lead to the highly skilled, highly paid careers of the future"
Yvonne Baker, Chief Executive of STEM Learning, said:
"We are delighted to welcome Juergen Maier as our latest honorary STEM Ambassador. The STEM Ambassadors are a national treasure, bringing their expertise and passion for STEM to young people across the UK."
Share this resource
Press release
If you would like to contact the organisation regarding any press or media opportunities please email marketing@stem.org.uk or call 01904 328300.
Contacting us
If you have any ideas for stories and features on the site please email feedback@stem.org.uk