Planning for learning: formative assessment in science and maths NE710 / B18
Learning Method
Online Delivered CPD
Summary
Online course. Guided by experts in assessment for learning, on this course you'll plan to identify your learners' thinking, clarify learning goals, and fine tune your teaching, so you are better able to progress your students' understanding, both in and between lessons.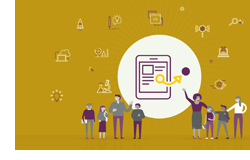 This online course is free for seven weeks from when you join.
You'll find out how to plan based on learners' starting points, use success criteria, and develop your classroom questioning to adjust your teaching approach and respond to student learning.
In the final part of this course, you'll look at medium-term planning and the benefits of working with colleagues as you change your practice.
"The course has confirmed my belief that evidence based teaching is most significant tool that can make learning intentions achievable and create successes along the way"
- Participant feedback
Who is it for?
This course is for teachers, curriculum leaders, teaching assistants, newly qualified teachers, trainee teachers and others involved in teaching science, engineering, technology, computing or mathematics. It's suitable for educators working at primary, secondary or further education (ages 5-19 years).
Departments and schools can use this course to structure their own CPD, with support from local CPD providers.
What topics are covered?
This course is structured into five weeks:
planning to gather evidence about your students' learning
planning to address misconceptions
collecting evidence to inform your teaching
planning to respond to student understanding during lessons
medium-term planning to respond to student understanding across lessons
This course takes around three hours per week to complete. You can choose when and where to participate, studying around your work and life commitments. You are supported and encouraged to discuss your ideas with fellow teachers, try out activities, apply concepts to your teaching context and reflect on your practice. You will have access to high-quality resources, including classroom footage and guidance from experts in STEM education and assessment.
Who are the course leaders?
This course is led by international experts in assessment for learning, Dylan Wiliam and Chris Harrison, with experienced teacher and educational consultant Andrea Mapplebeck. You will be supported by our dedicated online mentoring team between 13 May - 28 June 2019. A recorded Q&A with the educators is available in this course.
Outcomes
You will be able to:
explain how evidence-based practices suggest teachers should use formative assessment in a purposeful way
identify students' starting points and how to plan to move them forward successfully
demonstrate how to make evidence informed judgements about your students
apply a range of approaches to respond and adapt teaching during and in between lessons
develop your planning for flexibility and evidence collecting opportunities (including addressing difficult areas and misconceptions)
evaluate when and how students will consolidate or move forward their understanding across a sequence of lessons
Notes
The email address you give when you apply will be used to send you joining instructions and information about your course. Please make sure you can be contacted directly with this email address.
This course is hosted on the FutureLearn social learning platform. In booking on this course you are consenting to your details being shared by the with FutureLearn under their Terms & Conditions for Invited Learners. By accepting the National STEM Learning Centre's invitation to register on this course, you agree that your information will be held by FutureLearn and the National STEM Learning Centre as data controllers in common.
Cost
State-funded school or college
Activity fee

Free

Fee-paying school or college (independent)
Activity fee

Free
Additional information
For courses at the National STEM Learning Centre in York, fees include meals and accommodation for the duration of the course.
Alternative dates
Interested in this course?
Sign up to receive our emails to hear about the latest CPD available