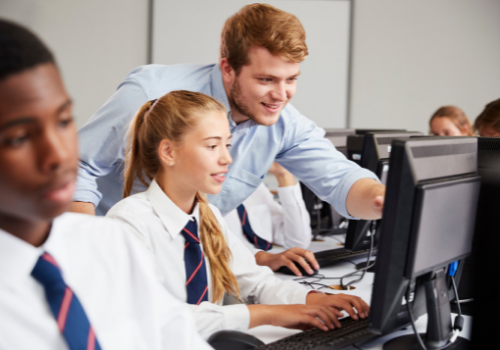 Engage pupils in computer science and win £500 for your school
Open now, the IBM SkillsBuild prize draw is open to teachers engaging groups of 10+ students in computer science. STEM Learning has worked with IBM to increase the accessibility of its SkillsBuild e-learning resources. We have created guides to show which SkillsBuild content supports the specific learning objectives within a range of computing qualification specifications to help save teachers time when planning their programmes of study. 
IBM SkillsBuild for Students and Educators is a suite of online e-learning developed by IBM experts and other tech leaders. It is highly flexible, supporting the computing curriculum, a range of qualifications, and learning for application in the workplace. It's available for free to all, and teachers can register their organisation for full access to administrative tools.
To celebrate the release of these handy teacher resources, we are encouraging teachers to sign up their class to take advantage of this free online skills-based learning and support. On top of that, IBM is giving a lucky school the chance to win £500 worth of STEM resources for their classroom.*
 

STEM Ambassadors:
Support students and teachers in GCSE and A-Level computer science by introducing them to the IBM SkillsBuild e-learning platform while undertaking STEM Ambassador activities with their school. STEM Ambassadors can sign up here and should use 'STEM Learning' as their organisation name.
How to enter? 
Teachers or STEM Ambassadors can nominate any school in the UK to be entered into the prize draw by filling in this short entry form once one Teacher and at least 10 students have signed up to the IBM SkillsBuild platform.
Winners
The competition's closing date for entries is 30 June 2022.  The draw will take place within 7 days of the closing date. and winners will be contacted within 7 days of the prize draw once the entry is verified. Full terms and conditions for the competition can be found on the entry form.
*The promotional period is open from 9:00 on 24 November 2021 to 23:59 on 30 June 2022. There will be two prize draws within this time, one with a closing date of 23:59 on 27 March 2022 and the second with the closing date of 23:59 on 30 June 2022.  All entrants from the beginning of the promotional period will be entered into the prize draws.  Winners will be contacted shortly after the prize draw once the entry is verified so that purchase of their chosen STEM resources can be coordinated.