STEM Club Quality Mark
The STEM Club Quality Mark is an award scheme for UK schools and colleges. Participating STEM Club leaders will work towards a set of goals that will ensure they and their club are a measure of excellence, contributing to the overall STEM subject success of students within the school.
This will help create a solid foundation of knowledge and STEM subject application within curricular and non-curricular settings, and ensure that students are given every opportunity to excel and thrive within these key subjects.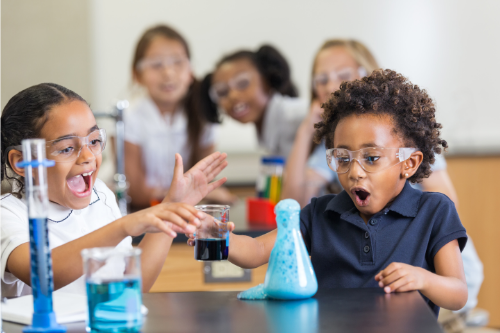 The purpose of the STEM Club Quality Mark is to:
recognise, reward and celebrate STEM subject clubs

provide a recognised achievement level for a successful and thriving status 

enhance the profile of STEM Clubs within schools and communities 

facilitate the sharing of good practice

encourage cross-curricular and departmental working 

foster engagement with employers, local businesses, and wider community 

embed real world context and relevance to STEM subjects

aid the development of projects and activities to inspire club members, increase enthusiasm and develop skill sets

enhance the knowledge and skill sets of club leaders
UK school STEM Club leaders can apply for a bronze, silver or gold award. Each of these awards validates the high standard the club achieves in meeting the needs of the club members and the school, and recognises the value and excellence in STEM subject enrichment the club provides to the school STEM agenda and improvement plan.  
Each award is valid for 12 months, enabling clubs to progress through the award levels and, in time, achieve and maintain the gold level award. Our network of STEM Club Champions will support club leaders throughout the application process, offering advice and knowledge to assist clubs in achieving their chosen award level. They will continue to be a source of guidance going forwards.
The application process
Phase 1

 

September - December 2021

Applicants complete the Initial Assessment form. This identifies which award they aim to apply for, the criteria they currently meet and outlines an action plan for working towards any outstanding criteria.

This form should be submitted to awards@stem.org.uk by 31 December 2021. Late submissions may not be progressed.

Phase 1: Review and feedback

January 2022

Applicants are connected with their local STEM Club Champion, who reviews submissions, makes recommendations and directs applicants to relevant information and sources of support. They will continue to be a source of support throughout the process. 

Phase 2

January - April 2022

Applicants implement feedback and submit the Final Application form, which confirm the award they are applying for, and upload evidence showing how their club meets the required criteria. Guidance on how to upload this evidence will be provided. 

This form should be submitted to awards@stem.org.uk by 30 April 2022. Late submissions may not be progressed.

Phase 2: Assessment

May 2022

STEM Club Champions assess applications and write feedback.

Quality check

June 2022

The STEM Clubs team conduct quality checks of assessments. 

Awards issued

July 2022

Applicants are notified of the outcome and given feedback. Awards are issued. Bronze and silver clubs are connected with gold awards clubs to act as mentors. 
What do you get?
The STEM Club Quality Mark has three award levels, which recognise the status of the club as it works towards a sustainable thriving and successful status. All recipients can use their award level as a measure of success ensuring the prominent status of the club within the school. 
Bronze and silver award recipients will receive:
STEM Club Quality Mark digital badge for the school website 
STEM Club Quality Mark digital badge for inclusion in email signatures and club leader's personal profile 
STEM Club Quality Mark authorised certificate. 
Gold award recipients will receive:
Support
There is a discussion thread in the Careers, Clubs and Cross-curricular group in our online STEM Community, in which STEM Club Quality Mark applicants can seek help, ideas and advice from our knowledgeable team of experts and club leaders.