Bringing employers and teachers together to grow the workforce of the future.
The demand for STEM skills in the UK has reached a critical point. As an employer you can make a direct impact by working with us on any of our STEM education programmes, together investing in the workforce of the future.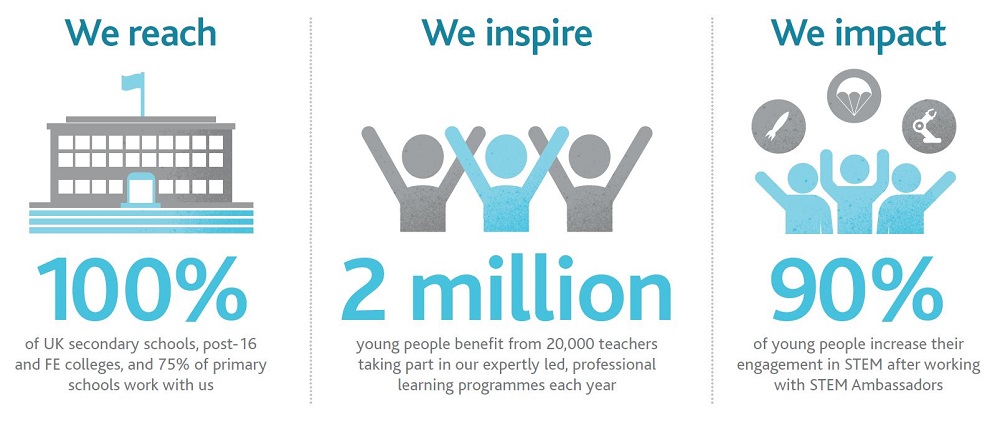 Engage with high profile programmes delivered alongside partners such as, the European Space Agency and Natural Environment Research Council. Contact us for more information.


Contact us

Acquire a tailor made website presence to position yourself at the heart of the STEM Learning's operation. Contact us for more information.



Contact us

Let us support you with all your educational needs, including resource development and teacher and employer forums. Contact us for more information.



Contact us
Our programmes are:
Efficient
We work with all the leading STEM enhancement and enrichment organisations and where possible integrate their initiatives into our programmes.
Impactful
We make a real difference in raising the STEM career expectations of young people and continually evaluate and improve our programmes.
Relevant
We use our extensive network of Science Learning Partners led by local teaching school alliances and schools and colleges with excellence in science, higher education institutions, and other local partners with cutting-edge expertise in science in order to link curriculum to real world STEM activities.
Local
Through our regional UK Network we can ensure that all activities meet local skills needs and contribute to UK prosperity.