Tough mudder: taking maths outdoors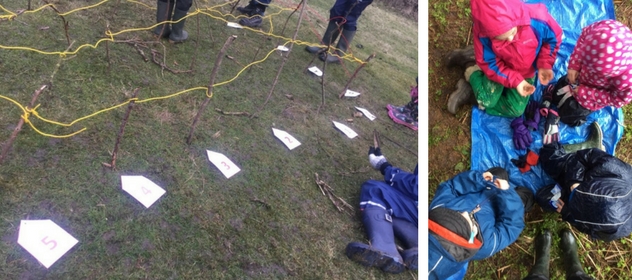 Being based in the countryside, our school has ample opportunity to make use of the area around us. I am passionate about outdoor learning and am drawn to the idea of using the resources all around us. This particularly relates to teaching maths.
However, we also want to ensure that we are focussing on how outdoor learning best supports what the pupils are learning in their maths lessons.
For a considerable time, I have been trying to find a way through this (in our case muddy!) dilemma. There is evidence that outdoor learning has a positive impact on children's emotional health and wellbeing. However, enjoying yourself and taking risks is not the same as ensuring that learning objectives are being thoroughly addressed.
Clare Sealy, who was recently due to speak at Research Ed about the impact on retention of information during lessons, presents the other side of the dilemma – if we teach children to multiply large numbers by calculating the number of leaves on a tree, will they remember the multiplication or the tree? She describes this fully on her blog.
So, lying underneath this dilemma, there are three issues:
Why are our children participating in outdoor learning? Is it to enhance pupil's resilience and personal attributes, or is it to address learning objectives from, for example, maths and English? With the pressure on curriculum time, it is tempting to try and cover many bases with one lesson.
Is it possible to do both?
Is this the most effective way of addressing maths and English learning objectives?
I feel, at present, we are going some way to addressing some of these queries – though I think possibly we are addressing them with more questions!
Why are pupils participating in outdoor learning?
Of course, we are trying to cover at least two bases, if not more, by participating in outdoor learning. It is definitely enhancing children's resilience and wellbeing, they are enjoying lessons and our children are a lot less risk-averse. Are they better at maths though?
Is it possible to enhance wellbeing whilst teaching the relevant learning objectives?
Yes – our outdoor maths last year showed evidence of children filling gaps in maths (eg with Roman Numerals and co-ordinates through tasks 'in the field') although some of the learning was not sustained over time. We also further supported our outdoor learning with homework covering the same subject in an attempt to try and illustrate the links between the outdoor learning and written calculations.
Is this the most effective way of addressing maths and English learning objectives?
I would love to say the answer to this one is yes but as yet, I am unsure. We have gone a long way to overcoming the issue of children being distracted by their environment and the amazingness of the lesson by consistently taking the children outside so they think of it as normal. We no longer spend most of the lesson getting changed and we have got past the being so excited we can't concentrate stage.
By being outside it gives us a great range of real-world problems that help to develop the children's reasoning skills - we are planning a project this year to assess by how much. It also ties in with our concept of a mastery curriculum – seeing calculations etc. in different situations and proving they are able to draw on their skills. However – could we do this in a more effective way in class?
I feel we need to ensure we are teaching our children in the most effective way we possibly can and we need to assess whether teaching maths through outdoor learning provides us with this option.
In the end, how do we compare benefits of academic resilience and impact on maths, along with adding in a complicated formula for the size of the smile on the children's face when they know it's a day they are going out?
About the author
Mari Palmer is the Headteacher at Settrington Primary School, based in North Yorkshire. She is passionate about outdoor learning and is drawn to using the outdoors to inspire the pupils she works with. 
You may also be interested in...