STEM Ambassadors: engaging students with careers in design and technology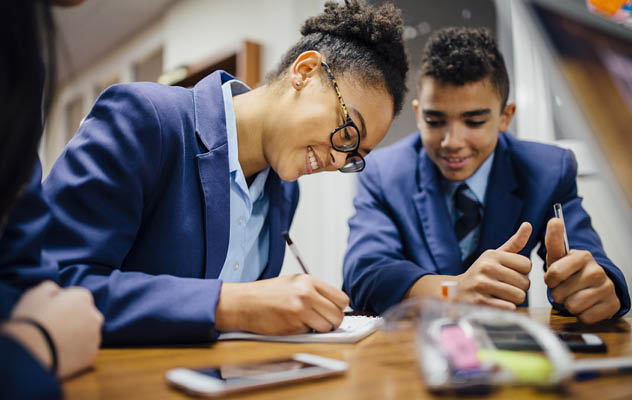 STEM Ambassadors are an important and exciting free-of-charge resource for teachers and others engaging with young people in and outside of the classroom. They offer their time and enthusiasm to help bring STEM subjects to life and demonstrate their value in life and careers.
A teacher's view
We asked Tessa Samuel, design and technology teacher at Judgemeadow Community College (@JudgemeadowDT), to describe her experiences of inviting STEM Ambassadors into her design and technology lessons and what her students gained from the experience:
The department had decided that we needed to show our Year 8 students about the careers that link to design and technology, in preparation for choosing their GCSE options. We decided to invite an outside speaker so I contacted Judith Payne, our local STEM Ambassador Hub contact, who helped us find someone who could speak to the students about careers in design and engineering.
Judith connected to a fantastic engineer in the motorsport industry who agreed to visit the college and talk to the students. Rob, the STEM Ambassador, works for Torquemeters Ltd and designed a session for the students that would help them to develop their problem solving skills and learn more about careers and pathways associated to resistant materials. We kept in regular contact before the session and Rob shared his ideas with me so I could check that the content was appropriate for our students.
On the day, Rob arrived with all of the equipment that we needed for the activity. He began the session with an introduction about himself and his route into engineering. His PowerPoint was engaging, clear and concise. This lead smoothly into an engineering task which they would complete in teams, this was a nice surprise for the students (who were expecting to listen to a talk for the whole session) and, as they love to do anything in teams, made a fantastic first impression!
The entire experience was really useful as it highlighted some things that students were unaware of and has helped to focus some of them more in lessons. The students liked the practical session and being able to solve a real life problem set for them by someone working in industry. Rob's presentation was very student friendly and a really helpful link for me to refer to when talking to students about how you can use design and technology as part of your career journey into engineering.
A STEM Ambassador's view
Rob Jinks works for Torquemeters and is the STEM Ambassador who worked with Judgemeadow Community College. We asked him what being a STEM Ambassador is like and why he volunteers his time to help schools and colleges:
I work for a company called Torquemeters Ltd who operate at the cutting edge of the high speed rotating measurement and test equipment industry, supplying equipment to a range industries including Formula 1 Engine Manufacturers, the Oil and Gas industry and a several Universities and Research Facilities around the world.  
This is an industry where knowledge and skills are probably our most valuable asset, so developing the next generation of engineers and technologists who will work in the industry and acquire and develop this knowledge is crucial to both our success as a business and to the growth of the industry as a whole. 
Engineering has suffered from negative public opinion and stereotypes over recent decades, so it is in my company's interest to go into schools and colleges to breakdown these misconceptions with a positive and exciting message, to ensure that today's students want to be that next generation of engineers.
As a STEM Ambassador, I volunteer with schools in a variety of different ways. I usually tell students a bit about myself and my career, but mainly talk about topics that are relevant and current to them by using lots of examples of technology that they are familiar or aware of.
"The best thing about being a STEM Ambassador is seeing that the students you are working with are engaged and enjoying the subject!"
Technology is key within the engineering industry, and every engineer will tell you that it is easiest to understand something when you have had hands-on experience of the technology yourself.  For this reason I normally include a practical activity in each lesson where I ask students to build something, to a simple specification, using readily available technology, such as K'nex.  This is great because it also helps the students to understand the importance of more general skills that employers look for, such as communication, teamwork, and activity planning.
When I was at school I loved STEM subjects, especially design and technology subjects like graphics and resistant materials, and wanted a career where I could use these subjects in the real world - so engineering seemed the obvious choice.  I had some fantastic teachers but unfortunately I received very poor careers advice. Fortunately, thanks support from a few open minded teachers I decided to become an engineering apprentice.
I made the decision quite early on in my career that I wanted to ensure future students benefited from accurate information about Engineering and Technology careers, so when I heard about the STEM Ambassador programme it seemed like a great opportunity to give something back by trying to inspire the next generation of students to become Engineers. The best thing about being a STEM Ambassador is seeing that the students you are working with are engaged and enjoying the subject!
Find out more:
You may also be interested in...