Immerse yourself in an ENTHUSE-iastic crowd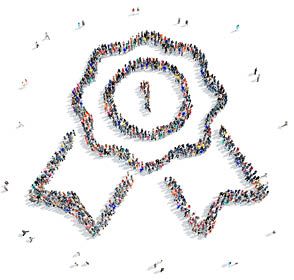 I am an Early Years teacher and science leader in a large primary school in Leeds. Having a degree in English, I didn't know an awful lot about science when I was given the role of science leader four years ago, but have since developed a passion for science education, as it is such an interesting and exciting subject.
I applied for the ENTHUSE Celebration Primary Award in April last year, basing my application on the work I had done within my own school on improving science teaching and learning, and was very pleased (and surprised!) to find out I had won.
The awards ceremony itself was a wonderful experience; the sort of thing there is not enough of in education. The whole event felt very glamourous, and the awards themselves were interspersed with inspirational speakers who really added a buzz to the evening. It was fantastic to be seated at a table with other professionals from other organisations involved in STEM education, and I particularly enjoyed getting some insight from Brian Cartwright; Ofsted's National Advisor for Science, who was seated next to me. My phase leader and I spent the whole train journey back to Leeds talking over all the ideas and possibilities we had come up with following on from conversations we had had at the ceremony.
As an aspiring science specialist, winning the award has been an invaluable step on my journey, first and foremost as it catapulted me into a community of enthusiastic and supportive professionals from all areas of STEM. In all my years teaching I have never known anything quite like the network of people surrounding science education; it is full of supportive and committed individuals who have a passion for supporting others and making science teaching great. Becoming a well-connected member of this community has helped my own professional development no end.
In addition to this, winning the award, and speaking to other past winners during and after the ceremony has shown me that, with a bit of enthusiasm and a passion for teaching, 'ordinary' teachers like myself are capable of great things. I would whole-heartedly encourage anyone who currently leads science in their school to apply for the award themselves, as the experience for me has been truly life changing.
Sign up to the awards yourself or if you know someone or an organisation that has done exceptional work to impact students, you can nominate them in the application form. 
The deadline for applications is 27 May 2016.