How can Virtual Reality be used in STEM subjects?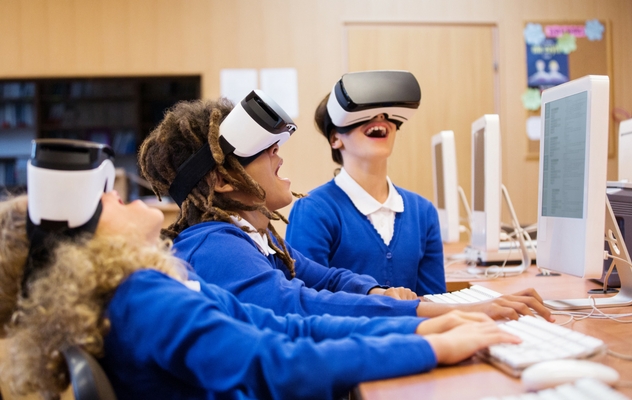 The shortage of students pursuing STEM subjects at university or through higher education has received a lot of attention over the past few years. According to consultancy firm AT Kearney, just one in eleven young people takes maths or physics at A-Level.
This, in turn, is having an impact on the UK job market, with 43% of science, technology, engineering and maths vacancies hard to fill according to the UK Commission for Employment and Skills.
What are the reasons behind this? Is the curriculum to blame? Do students find it difficult to relate to these subjects?
I don't know the answers to these questions but I do know that Virtual Reality (VR) can be a helpful tool for bringing STEM subjects to life. I've travelled across the country visiting over 100 schools and I've seen first-hand the potential impact of VR in the classroom.
Whilst working on the Google Expeditions Programme, I trained over 2,000 teachers and gave over 40,000 students the opportunity to see for example inside the human body, travel to outer space and visit famous museums from all over the world.
VR can be used across all STEM subjects to open students' imaginations and give them an idea of how they can apply their knowledge in the real world. I've seen VR used across all age groups, from small primary schools to huge sixth forms.
Here are some examples of how VR can be incorporated across the STEM curriculum:
Science
Learn about the circulatory and respiratory system with Anatomyou or take a trip around the solar system with Titans of Space. If you are teaching about cells, why don't you show students Molecule VR? This gives students a guided tour of different cell structures and provides a running commentary along the way.
Technology and engineering
Take students through the history of computing or show them a typical working day for an app developer. Through Google Expeditions, you can also give students an insight into various careers in engineering, from civil and electrical through to aeronautical.
Mathematics  
Show students how mathematics can be used to solve complex and everyday problems. For example, working out the volume of the Pyramids of Giza or exploring symmetry with the Taj Mahal.
Using VR in STEM subjects gives teachers the opportunity to bring a subject to life and gives students another way of learning.
Getting started
The most common questions I'm asked by teachers are how do we get started and is it expensive?
The VR market is flooded with devices and a large number of the tech giants are releasing their own headsets from PlayStation VR to Oculus Rift (owned by Facebook) and Google Cardboard. What should teachers and educators be looking for?
If you are looking to incorporate VR at a classroom level, Google Cardboard is going to be the most accessible and affordable option. The main expense with this option is the cost of obtaining a class set of smartphones as the headsets themselves can be purchased for as little as £5 (I would recommend testing one first before ordering a large quantity).
Once you have a class set, you can download a number of free VR applications including Google Expeditions, Discovery VR, Titans of Space, Molecule VR and the list goes on. If you are looking for a more immersive experience, you could purchase a more expensive and powerful device like the Oculus Rift.
If you want to trial VR but you don't want to be burdened with that large initial investment, booking a workshop or renting equipment is the next best option. PrimeVR aims to make VR more accessible for schools.
Find out more
About the author
Stuart is a qualified teacher and spent six months travelling the UK as a Google Expeditions associate. He now runs a company called PrimeVR that aims to make VR more accessible for schools.