Happy 3D Printing Day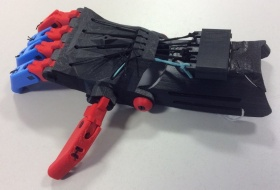 No seriously, Google it – it's a real thing!
On 3 December, 3D printing is having its global celebration and we wanted to do our bit to shine a light on the stories and ideas that are making the National STEM Centre 3D printing headlines.
Enabling The Future is a global network of volunteers who use their 3D printing equipment to help provide printed prosthetic limbs. You might remember their work reaching the UK headlines back in 2014 when a young girl from Scotland became the first child in the UK to receive a 3D printed hand through the project. The designs for the hands are open source, meaning that they are freely available to be distributed and modified. To see the kind of work that the volunteers have achieved, here is a useful video for students and a recent case study involving a young student from the International School of Aruba.
The image shows the hand that we printed at the National STEM Centre. If you would like to have a go at printing a hand for your school, the files can be downloaded here and instructions for assembly are here.
Open Bionics is another open source 3D printing company that is helping to make a difference in the prosthetics world. Last month, their hands were featured as part of a Star Wars fashion line "fashion finds the force"'.
The Magic Candy Factory is the world's first 3D gummy candy printer. At their launch event in August, the Berlin based factory unveiled their sweet making 3D printer, using vegan, gluten and dairy free vegetable based gelling agents to create sweets to the customers design.
How can you help clean up the ocean whilst swimming on holiday? Easy – wear a 3D printed swimming costume that is made from a material that absorbs pollutants! The material was developed by the University of California, and developed as a swimming costume by design firm Eray Carbajo. This short video demonstrates the material and you can find out more on this news page.
Another type of cleaning can be seen with the 'Drinkable Book'. The book has pages coated in silver nanoparticles that when placed inside a 3D printed custom designed case, allow the water that falls through to be cleaned – fit for drinking. Here is a great website that explains the process in more detail.
Did you know about 3D Hubs? Across the world there is a global network of 3D printing hubs that for a fee, will print files for you. As part of 3D printing day some of these hubs are running events to showcase the types of 3D printing available. You can see if any of the 3D Hub events are happening locally to you by visiting the 3D Hub map. If you have a printer at your school, you could become a hub for your local area.
If you would like to know more about 3D printing, the National STEM Centre has a bursary funded CPD activity running in the summer that is a great opportunity for both absolute beginners, and those with a little more experience to learn how to make the most of your machine. The course is hosted by Phil Cotton who will be sharing his years of experience as a design and technology teacher, using 3D printers as an everyday part of KS3 and KS4 lessons.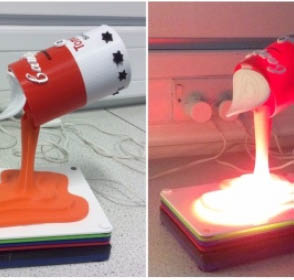 Let us know how #3Dprintingday is going in your school or college by tweeting @NtlSTEMCentre in your #3Dprintingday tweets!